Tradition and avant-garde are inextricably intertwined at Audemars Piguet. Over the years, the company has nurtured generations of talented craftspeople who have continuously developed new skills and techniques, broadening their savoir-faire to set rule-breaking trends. These innovations have contributed to advancing the Haute Horlogerie industry.
Since the inception of the company, Audemars Piguet has forged its own path and followed its firm convictions. It all started with the two founders' key decision in 1875 to craft unique timepieces by hand at a time when industrialisation was looming. Yet, despite their commitment to traditions, they consistently advanced their craft, not only by doing smaller and thinner, but also by leveraging new technologies to improve complications and functionalities.
This pioneering spirit led Audemars Piguet to reach numerous world firsts, starting in 1892 with the very first wristwatch, crafted in collaboration with Louis Brandt & Frères, and followed in 1921 with the thinnest pocket watch ever crafted with a movement of only 1.32 mm thick (calibre 17SVF#5).
Technical breakthroughs have been complemented over the years by the introduction of avant-garde designs which oriented the watch industry into new directions. While the Royal Oak ennobled steel to the same status as gold in 1972, the Royal Oak Offshore (1993) and the Royal Oak Concept (2002) became platforms of experimentation notably for the introduction of materials as diverse as tantalum, ceramics and forged carbon.
Here are some of Audemars Piguet's latest chapters in terms of innovation.
The Royal Oak designed by Gérald Genta and introduced in 1972 was unexpected, with its large 39 mm tonneau-shaped case, its octagonal bezel with eight exposed hexagonal screws, its guilloché "Tapisserie" dial, its faceted integrated bracelet and body of hand-finished steel. This watch broke the mould of design codes at a time when most dress watches for men were round, smaller in size, classic in design and made of precious metals.
Genta's idea was to protect the world's thinnest selfwinding movement with date indication (3.05 mm) launched in 1967 with tough armour in stainless steel. An unconventional material in Haute Horlogerie, and much harder to work than gold, steel called for investment in new tools and techniques. The Royal Oak's steel case and bracelet presented refined decorations, alternating hand-polished and satin-brushed finishing, which have since become its trademark. For the first time, steel was ennobled to the same status as gold.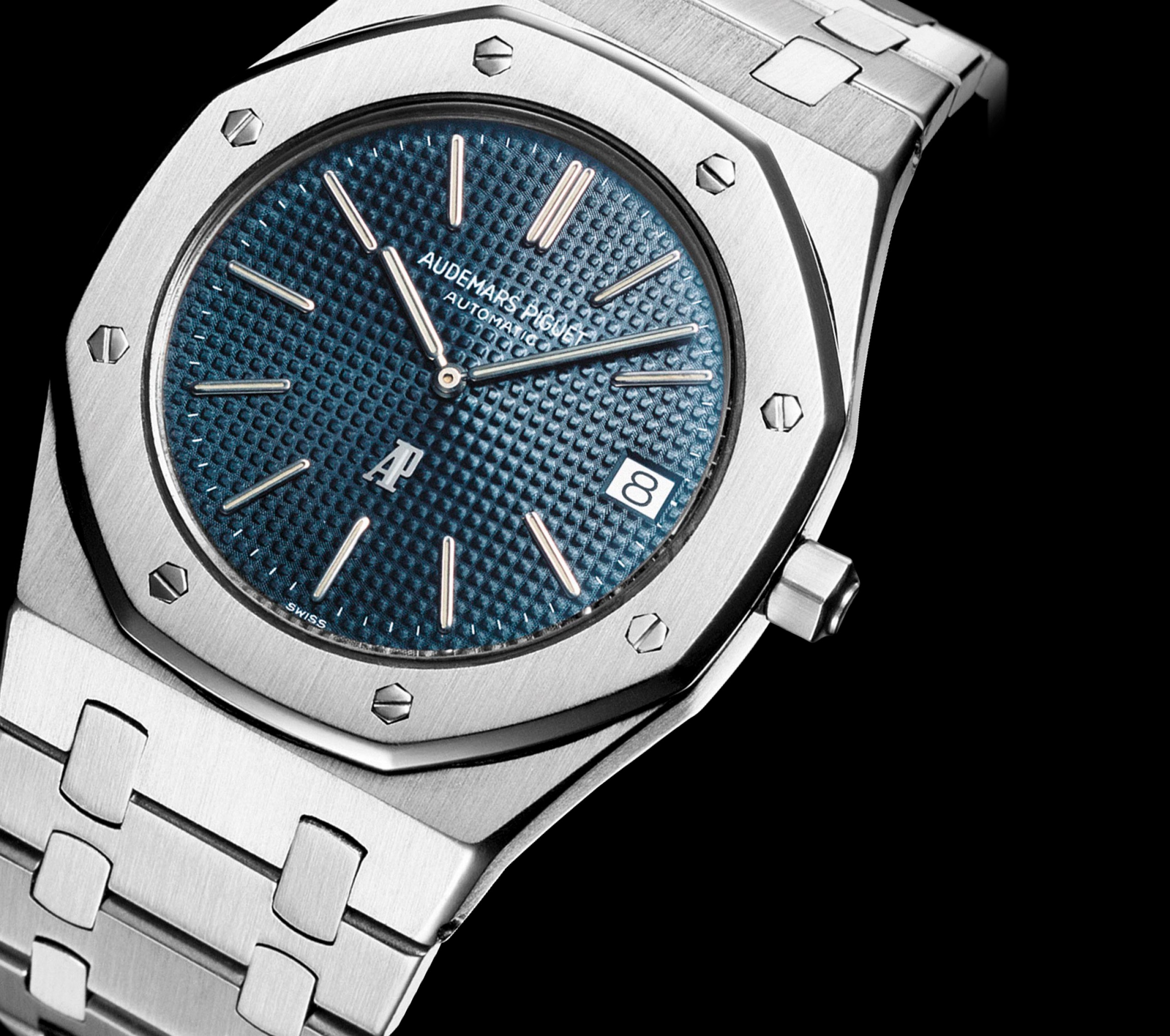 Audemars Piguet has always kept one foot rooted in tradition and one foot stepping into the future of horological technology and design.
Jasmine Audemars
Chairwoman of the Audemars Piguet Foundation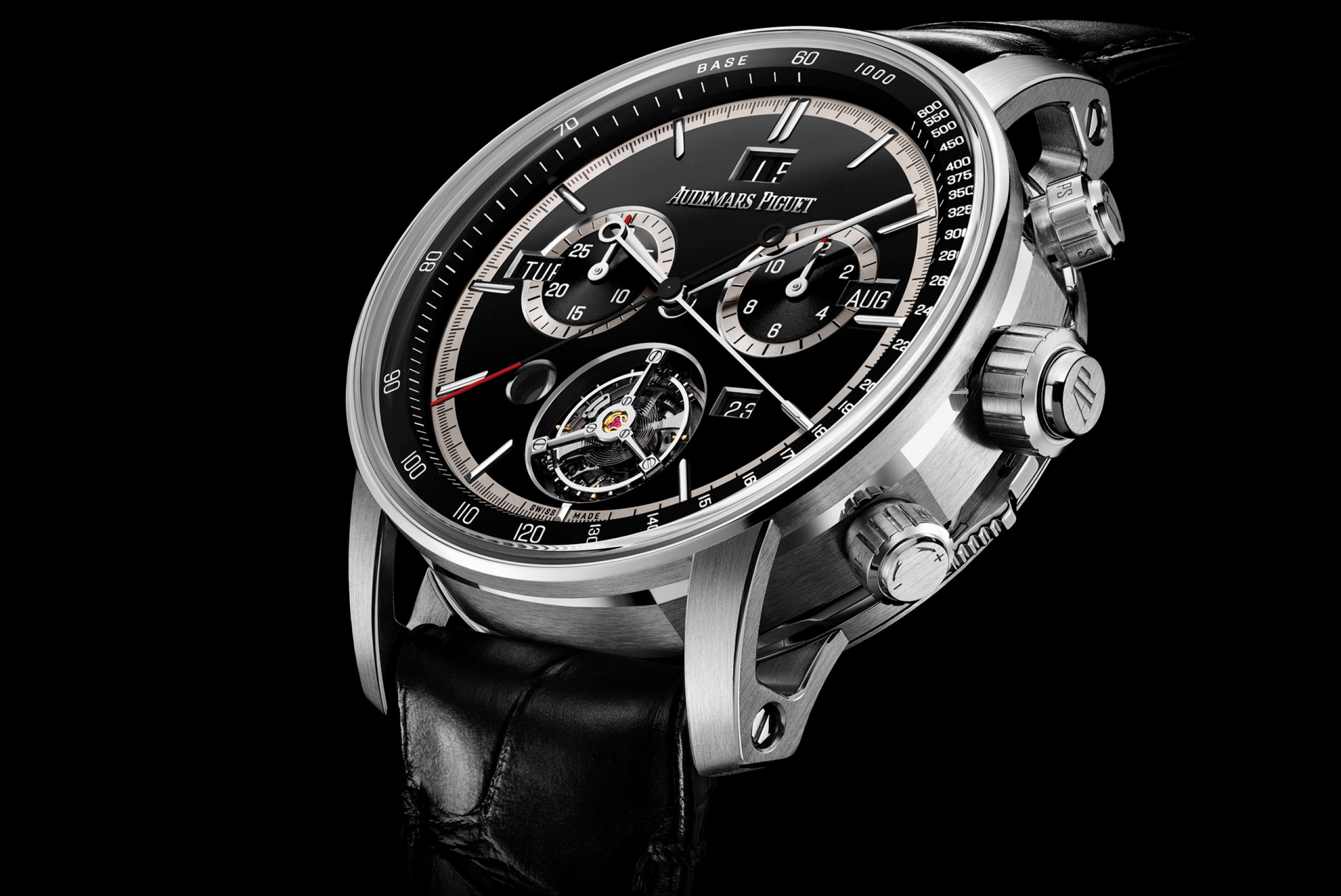 The culmination of 7 years of research and development, drawing upon the human talents working in various disciplines, the Code 11.59 by Audemars Piguet Universelle pays tribute to the grand complication.
In this episode of AP talks, Sébastian Vivas, Raphaël Balestra, Lucas Raggi, Giulio Papi and Anne-Gaëlle Quinet and provide an insight into the making of AP's most complicated watch, a lesson in complications, precision and miniaturisation and a creation that surpasses the previously accepted limits of Haute Horlogerie.
An exceptional timepiece, the Code 11.59 by Audemars Piguet Ultra Complication Universelle RD#4 features the Manufacture Calibre 1000. It comprises 1140 components and is endowed with 40 functions, including a Grande Sonnerie, a Supersonnerie, minute repeater, tourbillon, flyback, chronograph, split-seconds chronograph, astronomical moon, moon phases and large date.
The "Universelle" is like the quest for the Holy Grail with so much expertise in such a small volume! We dreamed about it for 100 years, we thought about it for 20 years, and it took us 7 years to achieve.
François-Henry Bennahmias
Audemars Piguet CEO
In 2022, Audemars Piguet unveiled its latest research and development breakthrough (RD#3) with the Royal Oak Selfwinding Flying Tourbillon Extra-Thin to celebrate the iconic collection's jubilee. This 39 mm stainless steel anniversary model, measuring 8.1 mm in thickness, represents the first "Jumbo" in history to be equipped with a selfwinding flying tourbillon. It is powered by the Manufacture's new selfwinding ultra-thin flying tourbillon movement, Calibre 2968, measuring just 3.4 mm thick and adorned with a novel combination of traditional and contemporary hand-crafted decorations.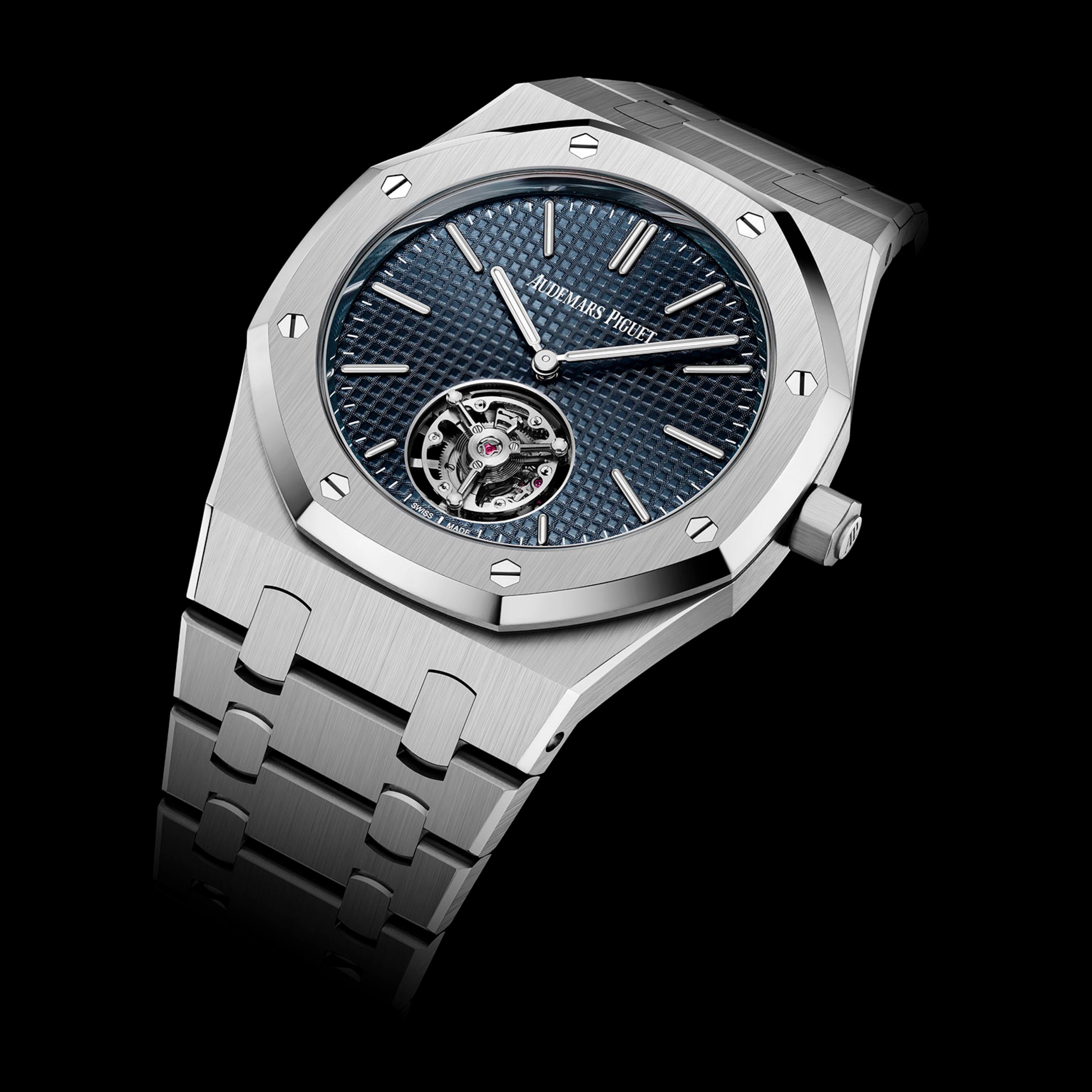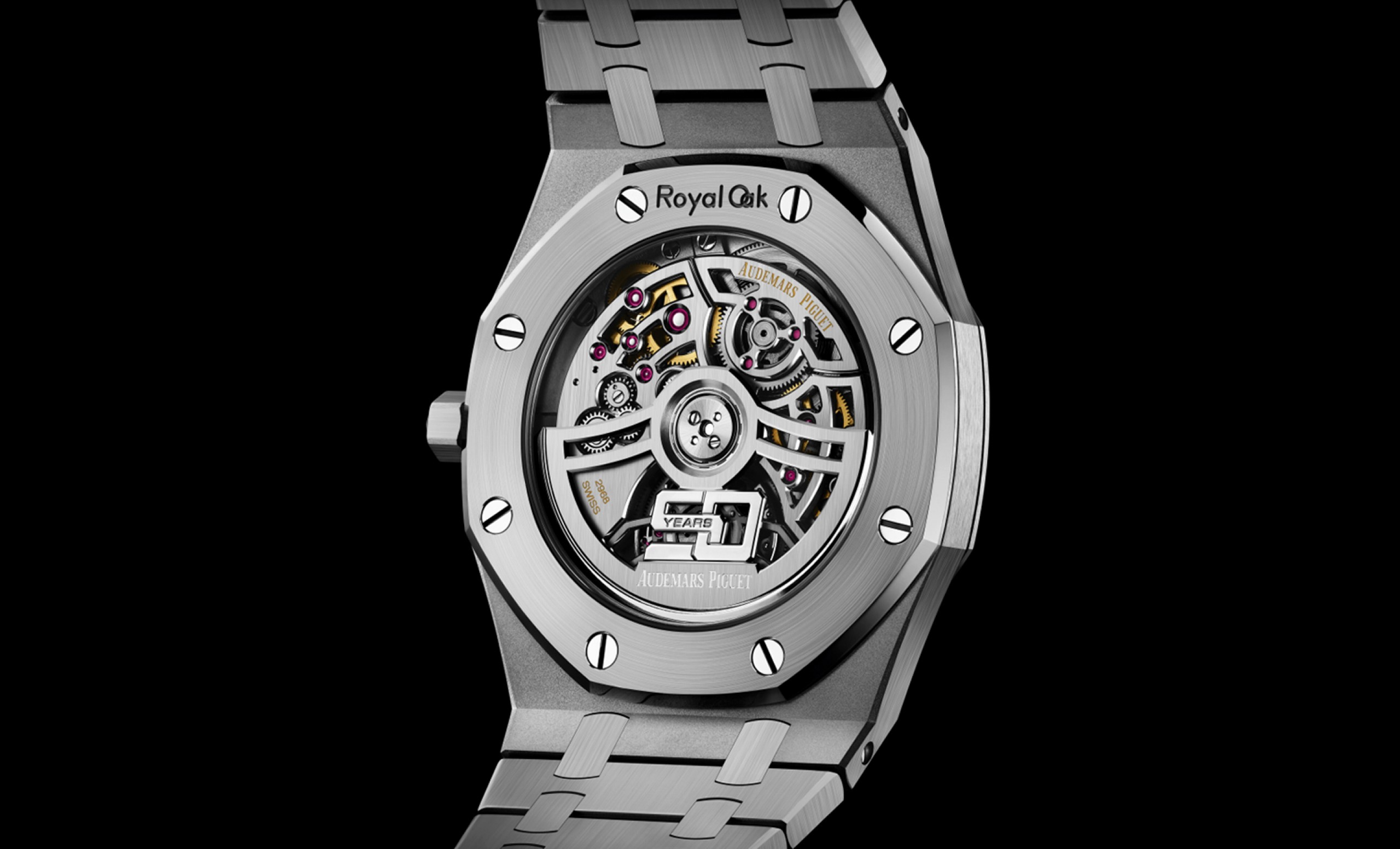 Audemars Piguet's engineers and watchmakers took on numerous challenges in order to accommodate this complication – previously reserved for 41 mm diameters – into the smaller volume of a "Jumbo." Given the extra-thin nature of the form language, this selfwinding flying tourbillon had to be creatively rethought to reduce the thickness required to house this complication by repositioning certain components. The tourbillon cage is crafted in titanium and equipped for the first time with a peripheral drive. The combination of these two elements makes the distribution of energy to the tourbillon more fluid, while lightening and refining this regulating organ.
Audemars Piguet engineers also redesigned the mechanism's architecture to provide optimum visibility of the tourbillon. Calibre 2968 features a new escapement to accentuate its aesthetic details while revealing part of its inner workings. The geometry and positioning of the balance wheel arms have notably been revised to make the watch's beating heart even more perceptible. The movement's technical design results in the flying tourbillon being placed at the dial level, for a greater visual experience.
Pushing the boundaries of feasibility, this model will be complemented in September by a second 37 mm version for the slimmer wrists, enriched with a dial of a different hue.
This extra-thin 37 mm anniversary Royal Oak, powered by Calibre 2968, embodies the Manufacture's first ever selfwinding flying tourbillon offered in a 37 mm diameter. Endowed with a new plum Petite Tapisserie dial and an innovative escapement system, this stainless steel timepiece blends technical feats with meticulous aesthetic.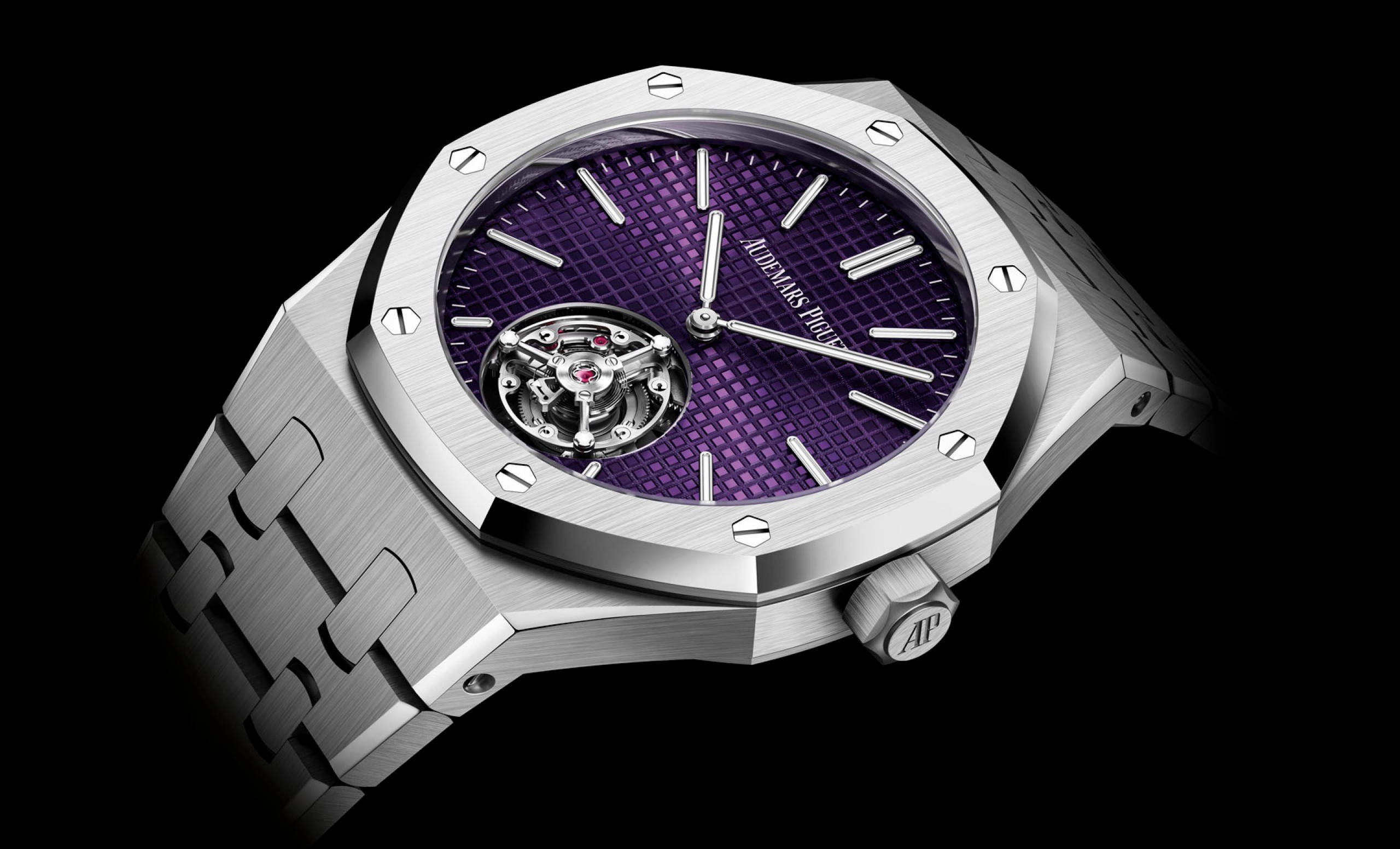 The Royal Oak continues to evolve and cut through the timeline 50 years after its creation and will do so for the next 50 years and beyond. It remains a platform for both technical and aesthetic development, as demonstrated by the new ultra-thin flying tourbillon making its debut on both the classic 39 mm and the celebrated 37 mm Royal Oak models. The movement architecture was designed to offer a unique view of the smaller cage while showcasing an engaging contrast of hand-finishing techniques throughout.
Michael Friedman
Head of Complications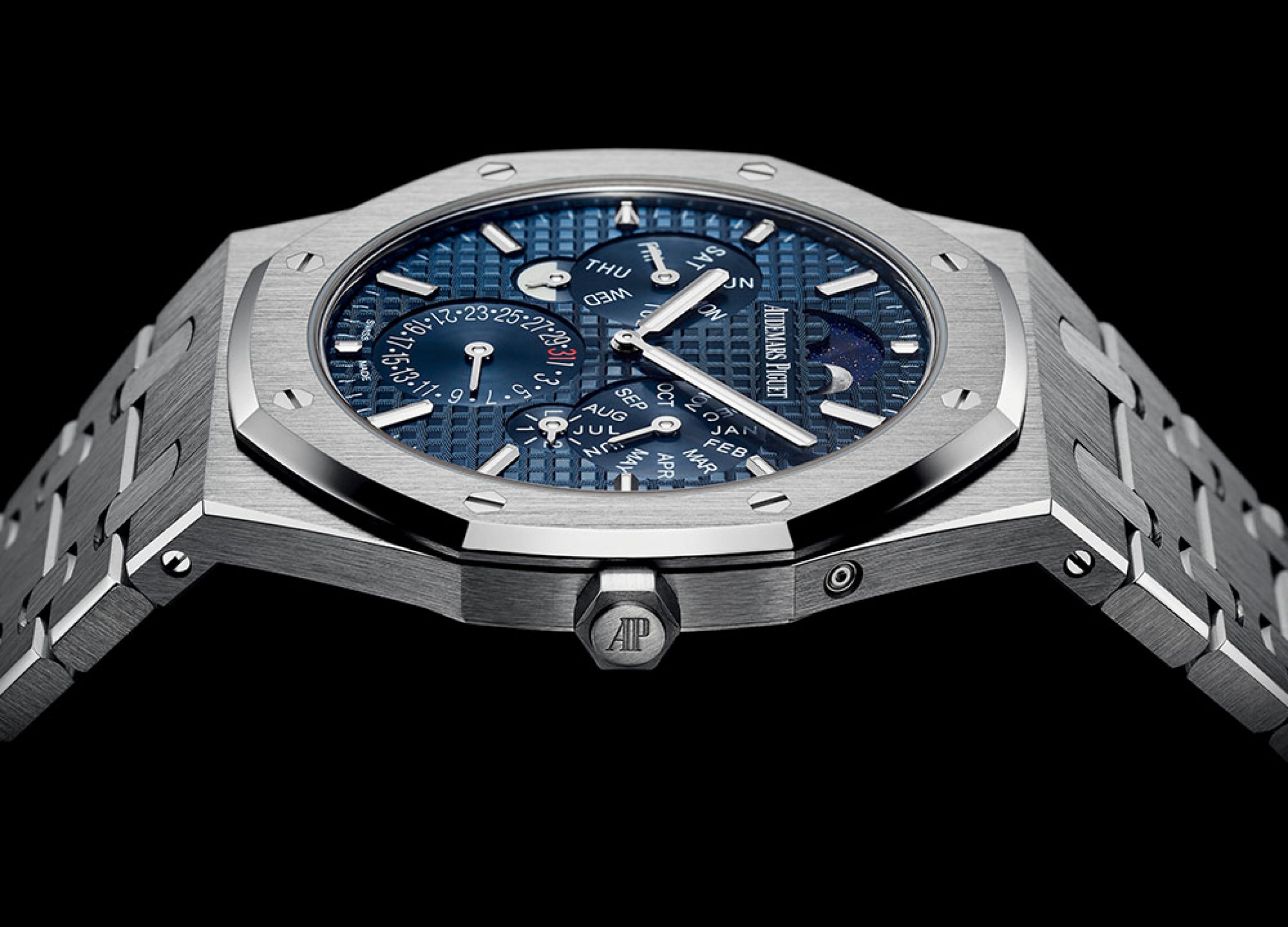 The Royal Oak RD#2, introduced in 2018, marks a new watchmaking record. With a movement of 2.89 mm in thickness and a case of 6.3 mm in height, the Royal Oak Selfwinding Perpetual Calendar Ultra-Thin has become the world's thinnest automatic perpetual calendar wristwatch.
To achieve this remarkable thinness, the perpetual calendar's functions have been merged onto one single level instead of 3. 
This led to the development of two pioneering and patented innovations: the end-of-the-month cam has been integrated to the date wheel, while the month cam has been combined to the month wheel. The geometry of each component has also been optimised from the onset, reducing adjustment and assembly time.
This creation paves the way for a new generation of complicated watches balancing refined aesthetics, optimum ergonomics, technical complexity, ancestral savoir-faire and contemporary lifestyle.

Presented in 2015, The Royal Oak Concept Supersonnerie prototype, known as RD#1, revolutionised the case construction of traditional minute repeaters. Audemars Piguet's patented Supersonnerie technology resulted from 8 years of development in collaboration with the Swiss Federal Institute of Technology Lausanne (EPFL) and a host of experts, including musicians.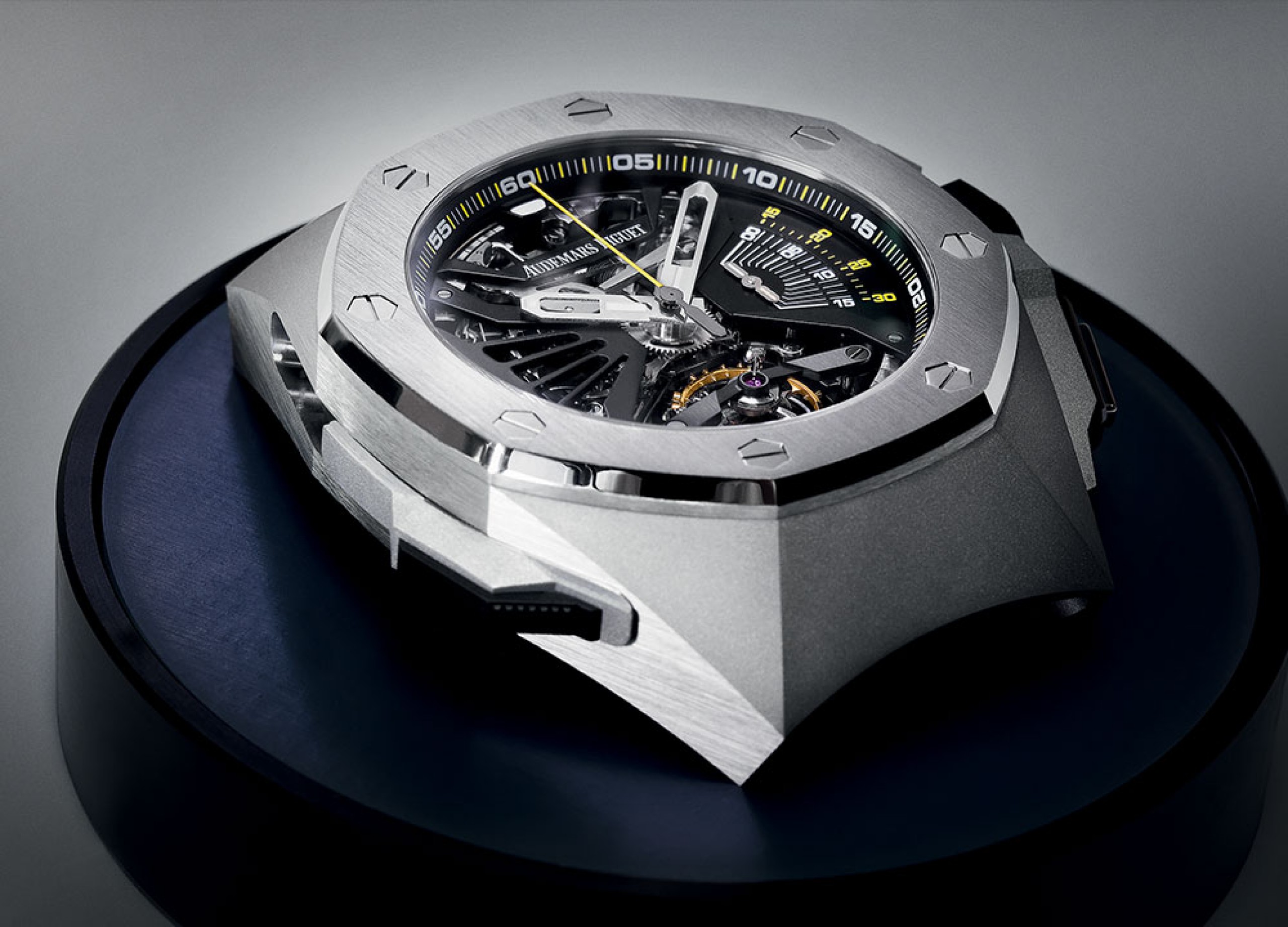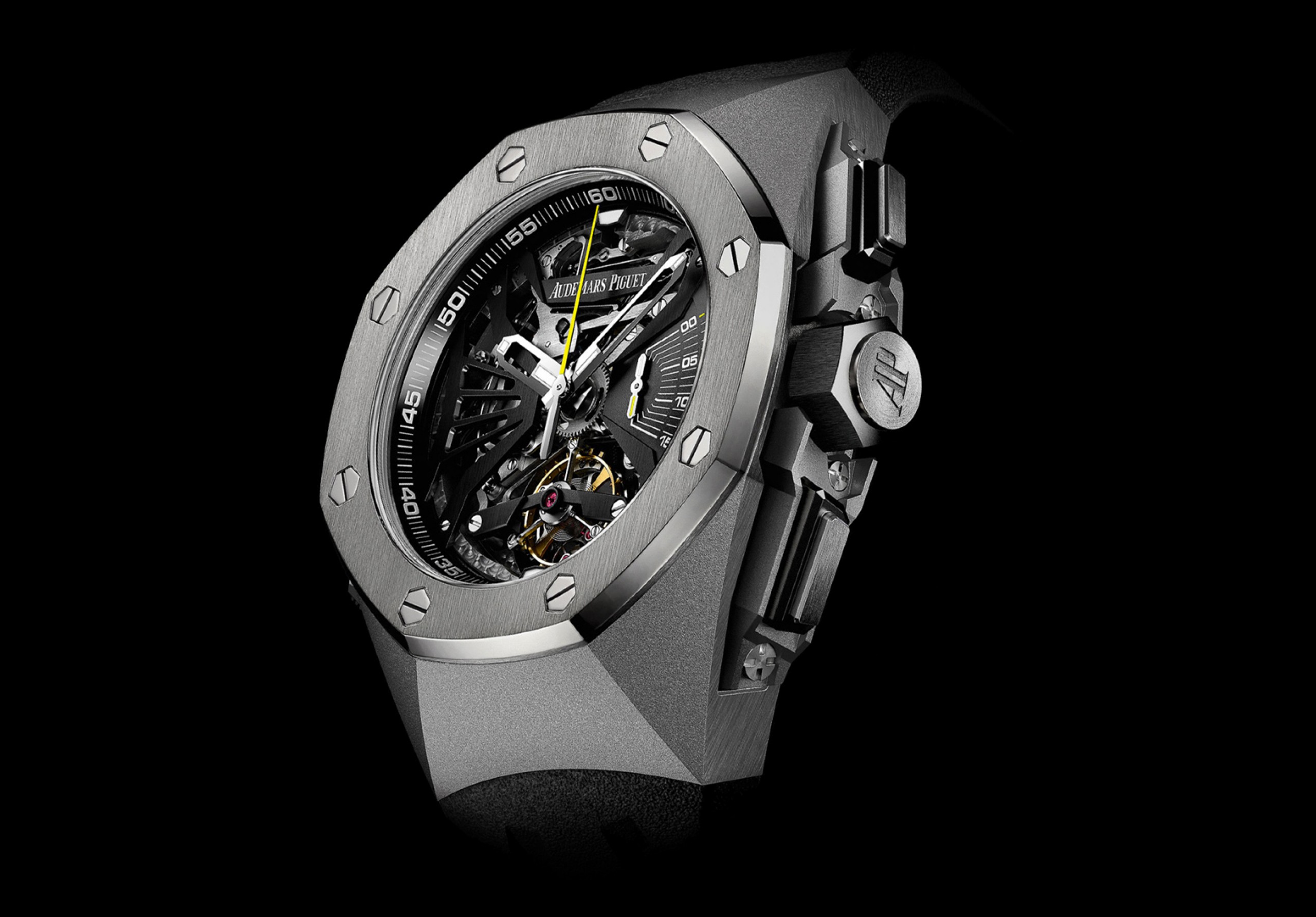 Inspired by the sonic power of older minute repeater watches as well as by the harmony of musical instruments, a dedicated community of watchmakers, technicians, academics and musicians reviewed the case construction to produce a new chiming technology.
The Supersonnerie's exceptional acoustic power, sound quality and harmonic tone are granted by patented gongs, case construction and striking regulator. The gongs are not attached to the mainplate, but to a new device acting as soundboard, which prevents sound absorption and boosts amplification. The redesigned striking regulator eliminates unwanted noise thanks to its more flexible anchor system. This innovative Supersonnerie technology also provides a sharper tempo.
In 2015, Audemars Piguet released the Royal Oak Concept Laptimer Michael Schumacher, developed in collaboration with the legendary F1 driver. In 2010, Schumacher challenged Audemars Piguet engineers to create a mechanical wristwatch which could measure multiple consecutive lap times on the racetrack – something that could only be done digitally before.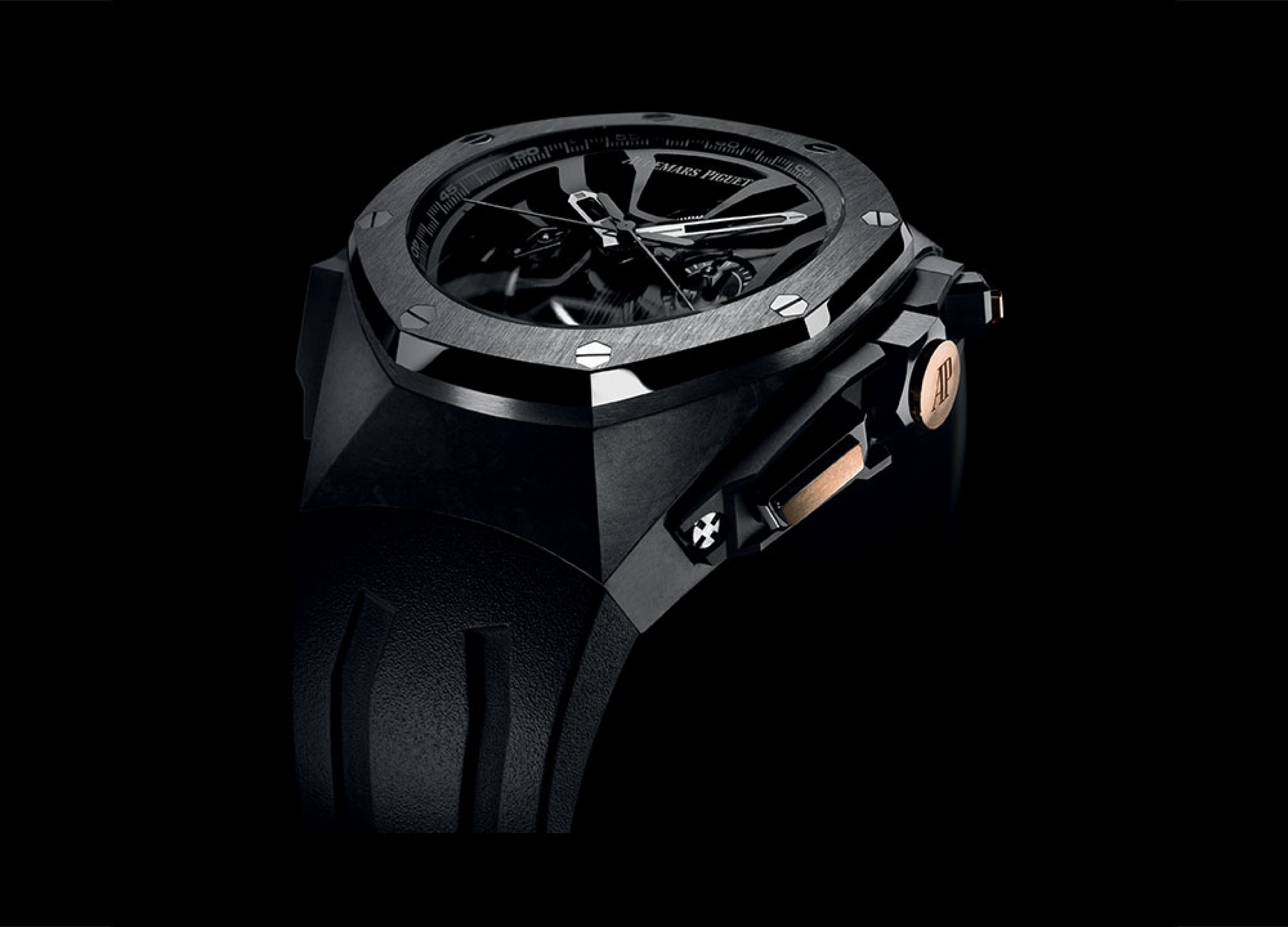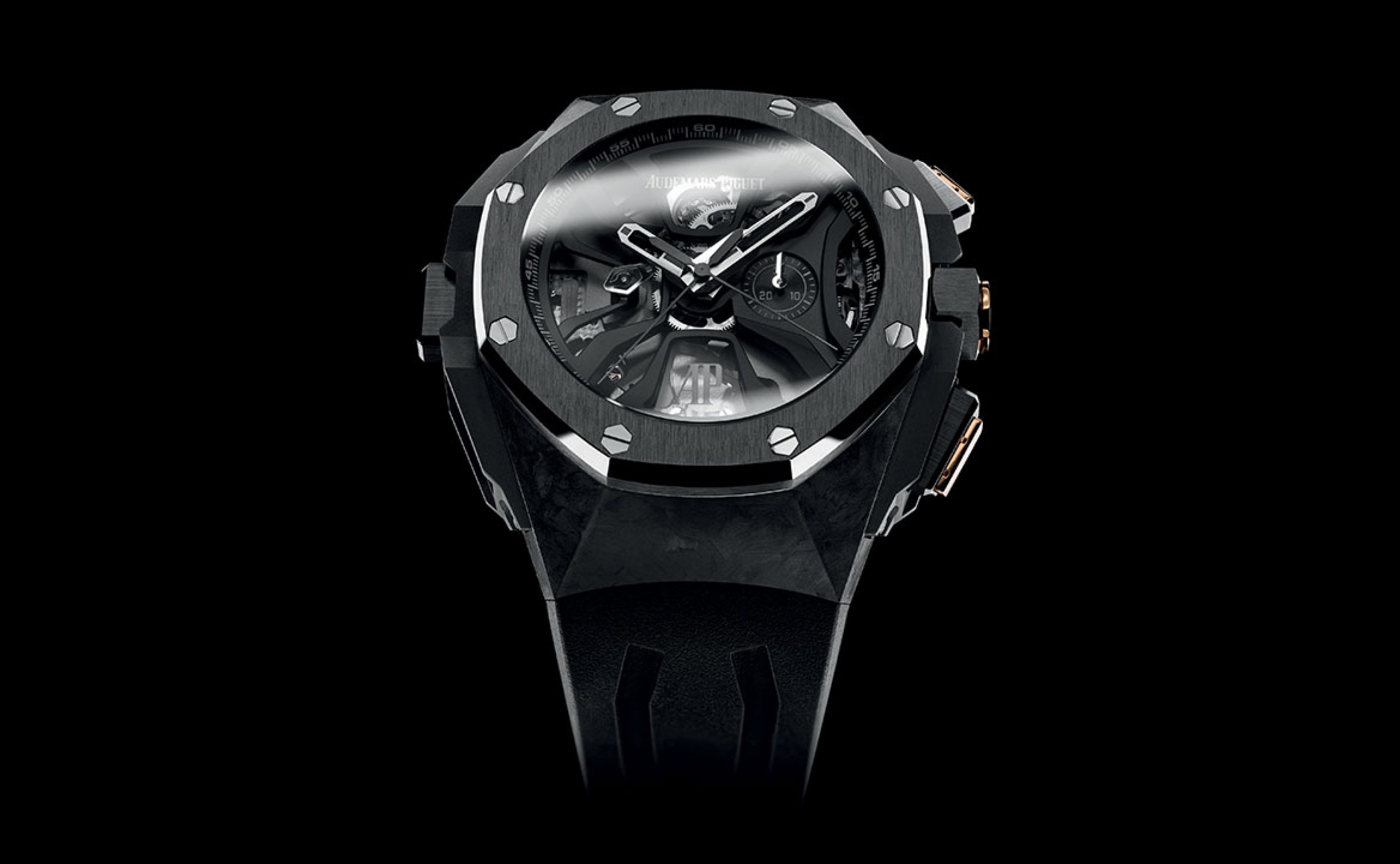 Five years later, the Manufacture released the patented Laptimer, featuring a single chronograph driving two central sweep-seconds hands, which can be controlled independently via three push-pieces: the start/stop push-piece located at 2 o'clock, the reset push-piece at 4 o'clock, also endowed with the flyback function when the chronograph is activated, and the laptimer push-piece at 9 o'clock. This third push-piece enables to simultaneously stop either of the two chronograph hands, while returning the other hand to zero and restarting it instantaneously. While the time of the most recent lap is noted down, timing of the next lap is already underway. The action can be repeated as many times as desired.
Since 1875, Audemars Piguet has pushed technical and aesthetic limits, setting multiple records and introducing a wealth of world firsts.
Back to Our Savoir Faire