19 October 2022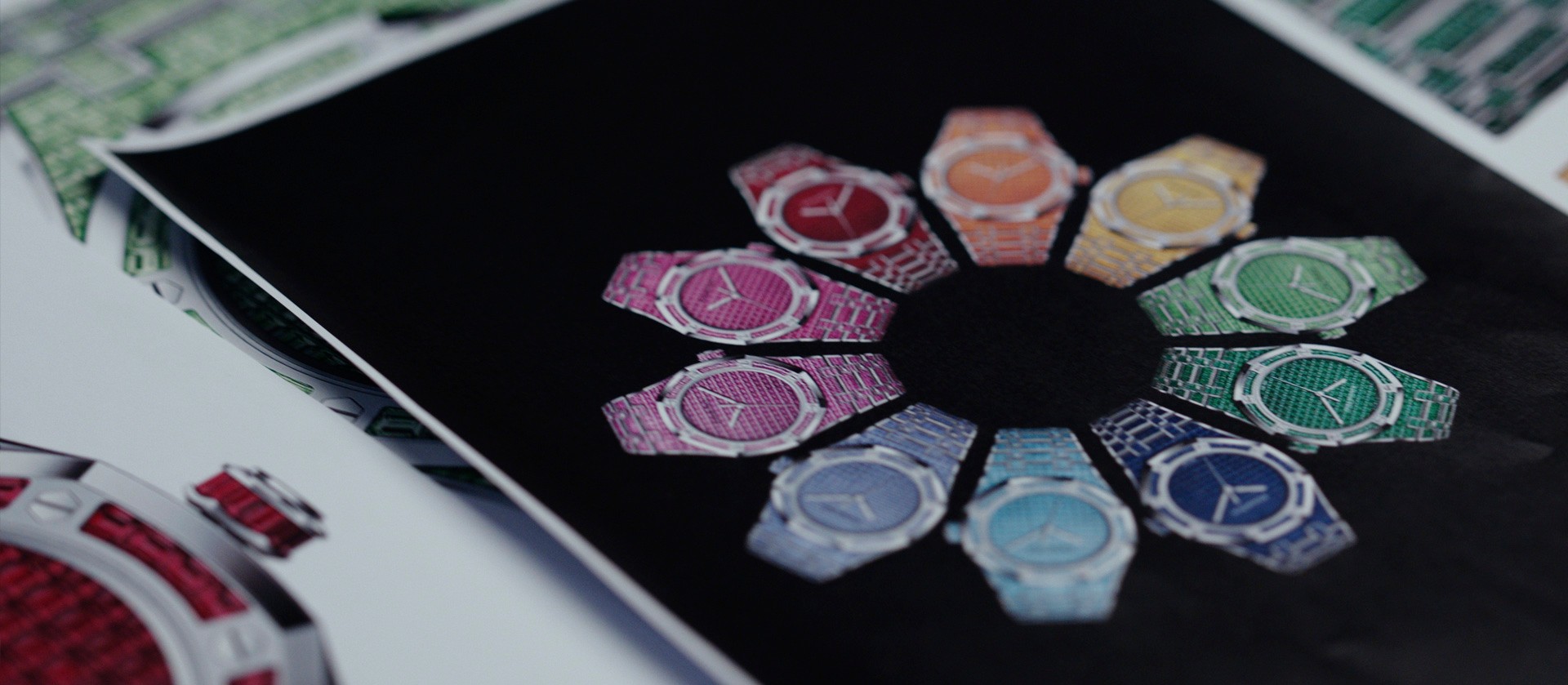 Two unprecedented white gold Royal Oak Selfwinding sets in 37 and 41 mm reinterpret the "traditional" rainbow watch to celebrate 50 years of Royal Oak design innovation. Instead of playing with iridescent colours on one single watch, the Manufacture has reinvented the rainbow altogether with ten timepieces per set, each fully decorated with a distinctive gemstone in a vivid red, yellow, green, blue, purple, pink or orange hue so as to form a rainbow when set side by side.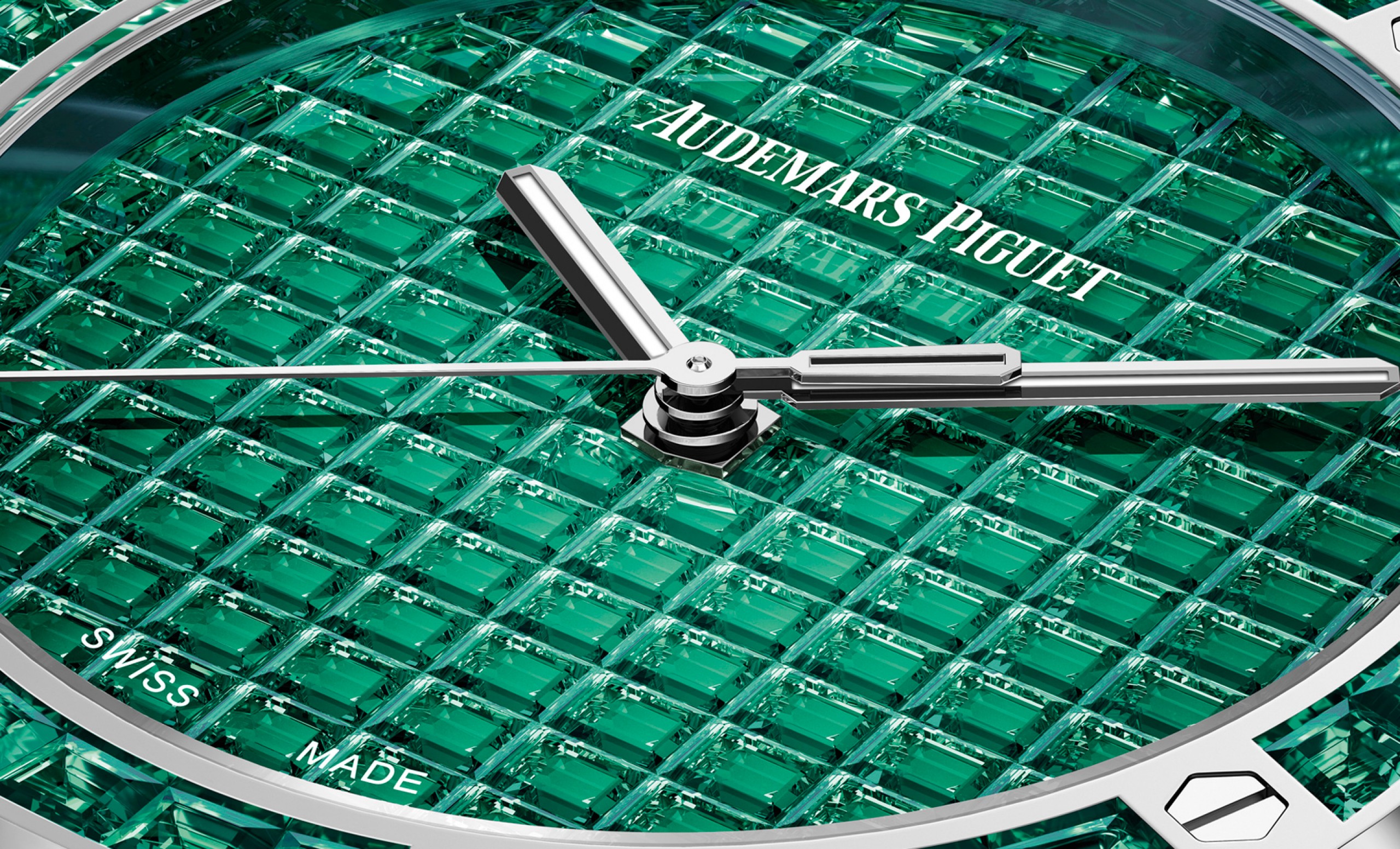 Finding the right stones, colours and contrasts, while responding to Audemars Piguet's strict criteria for colour, clarity and quality, was a crucial step in the design of the rainbow sets and no easy task for timepieces covered with 861 gems of the same hue (ranging between ~30 and ~47 carats per watch) for the 41 mm versions and 790 stones (varying between ~21 and ~37 carats) for the 37 mm models.
The three "Queens" of gemstones – ruby, emerald and blue sapphire – set the tone for the colour gradation. To complement these intense colours, the Manufacture's gemmologist and design team chose a selection of stones rarely seen in the Haute Horlogerie industry. Tanzanites, yellow chrysoberyls, pink tourmalines, amethysts, blue topaz, orange spessartites and tsavorites were selected for their vivid colours and purity so as to achieve a harmonious and expressive rainbow when set side by side. These ten pieces also tell their own story linked to the unique property, colour and symbolism of their dedicated gemstone.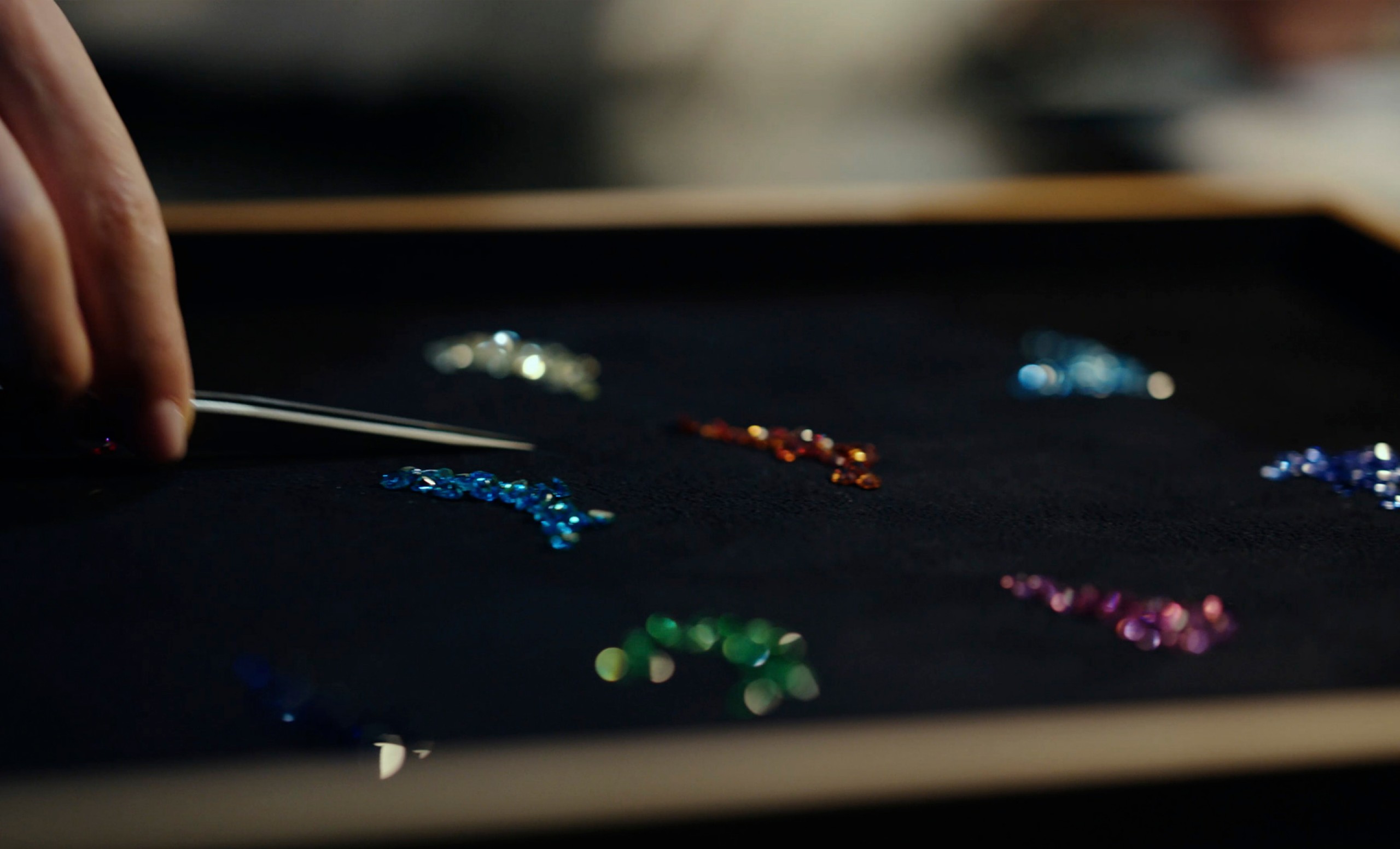 With these sets available in two sizes, we went off the beaten track to create an unprecedented rainbow with ten bold timepieces, each decorated with a different gemstone. We selected some of the world's purest and most vivid stones, including emeralds, rubies, tourmalines, tanzanites, tsavorites, chrysoberyls and spessartites. A challenge as we had to find some 800 gemstones per watch, all with the exact same colour and the highest level of quality.
Nathalie Barzilay
Audemars Piguet's Head Gemmologist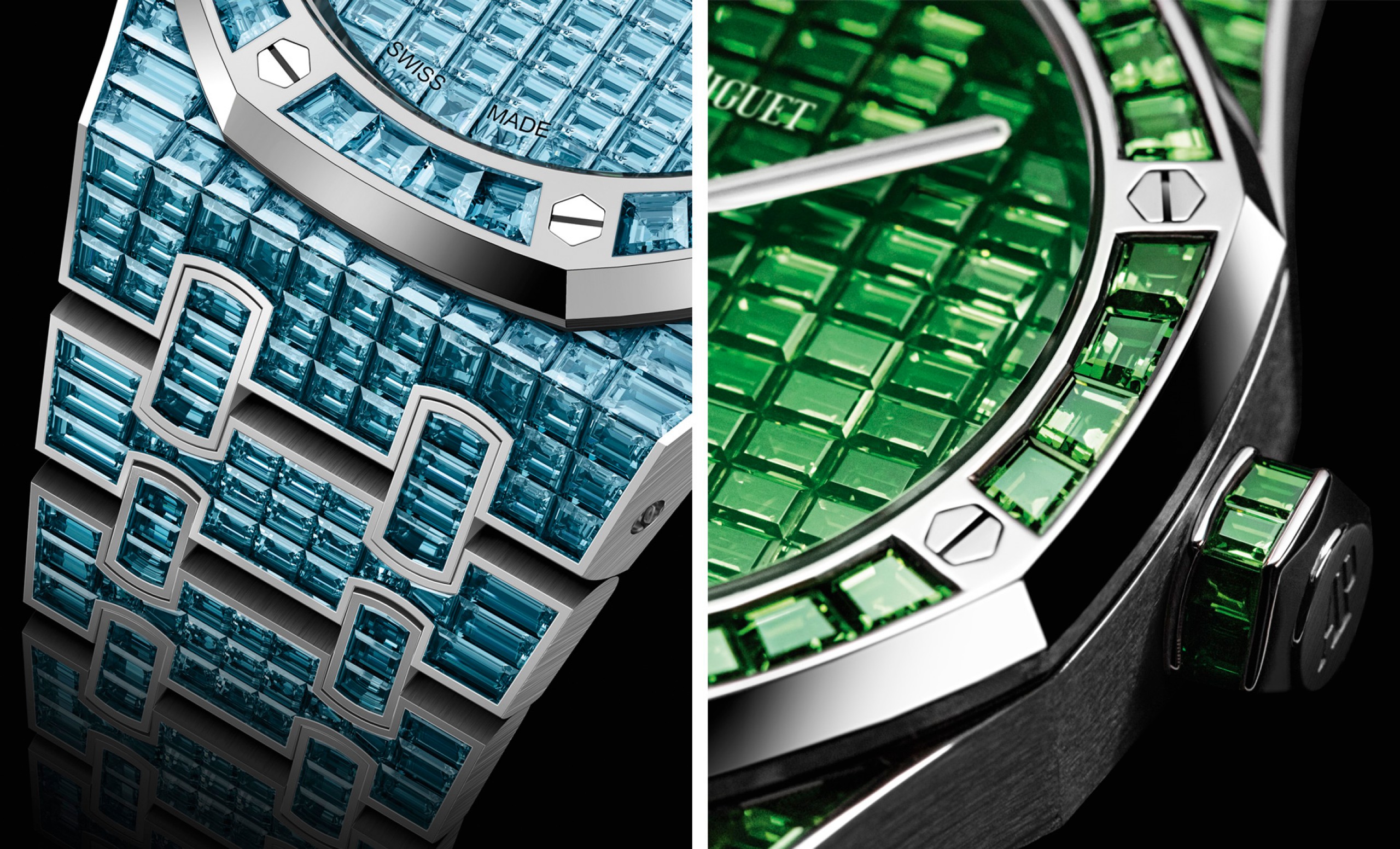 To match the architecture of the Royal Oak case, bracelet and dial, the gemstones have been individually cut in baguettes of 179 different sizes for the 41 mm models and 153 sizes for the 37 mm, before being polished by hand to present sharp and clear angles. 
To give pride of place to the coloured gemstones, the Manufacture chose the intricate technique of invisible gemsetting for the dial, case and bracelet links. Tiny grooves have been delicately incised in the baguette-cut stones, which are then carefully snapped one by one into a hidden rail mounted in the gold component, giving the impression that they are holding on their own.
The gemsetting of the dial embodies the technical prowess behind these invisibly set watches as the very thin gold plate has been covered with 152 baguettes, cut in 30 different sizes for the 37 mm timepieces and 28 sizes for the 41 mm models. To further highlight the stones, the hour-markers have been left out, while the "Audemars Piguet" signature and the "Swiss Made" indication have been discreetly printed in white or in black on the sapphire crystal.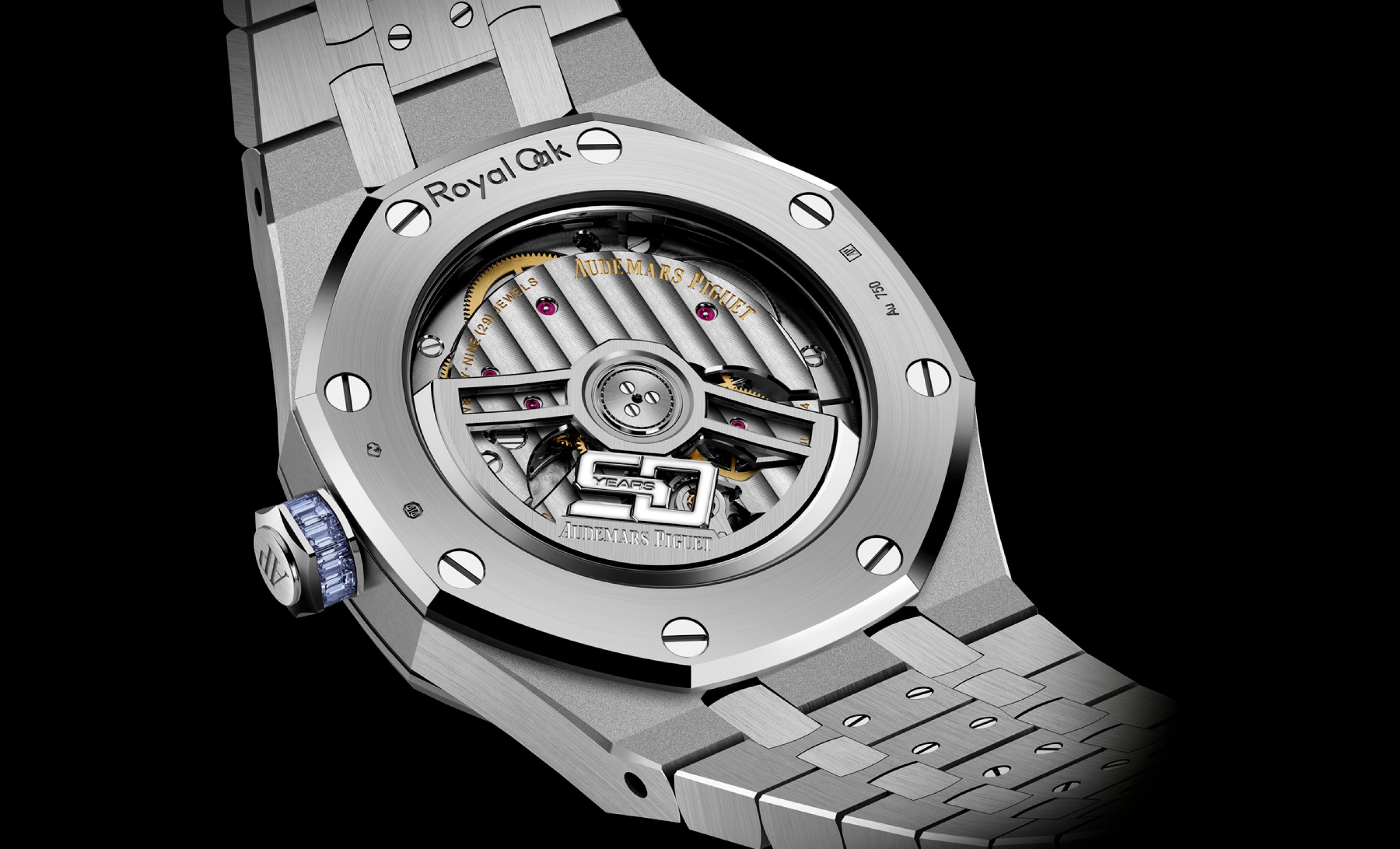 To emphasize the gemsetting on the dial, the two 37 mm and 41 mm sets are respectively driven by Calibre 5909 and Calibre 4309 – two selfwinding hours, minutes and seconds movements without date indication.
Since its inception, Audemars Piguet has collaborated with prestigious jewellery brands, including Tiffany, Cartier, Oscar Heyman and Bvlgari to case its movements in unique Haute Joaillerie creations shimmering with diamonds and coloured gemstones. One notable example is the "Tutti Frutti" watch sold in 1929, equipped by Calibre 5/7SB, the smallest movement ever produced by the Manufacture. The external design of this unique piece comprising diamonds, emeralds, rubies as well as blue and yellow sapphires was crafted by the Parisian jeweller Egouvillon Lafon & Cie Paris (Audemars Piguet Heritage Collection, Inv. 1378).
The 1960s and 1970s witnessed the development of highly creative watches enriched with natural stone dials. Dials made of tiger's eye, lapis lazuli, aventurine, grossular garnet, opal, onyx, ruby, amethyst and japser, to name but a few, could be found in the Audemars Piguet catalogues, sometimes in combination with other gemstones featured on the case and bracelet.
In the 1980s, the growing trend for watches with welded bracelets spurred Audemars Piguet to open its own jewellery workshop and progressively create distinctive gemset watches in house, culminating with its Haute Joaillerie collection debuted in 2013.

Far from being confined to these one-off fine jewellery creations, impressive gemsetting continues to infuse Audemars Piguet's collections today. While some timepieces present a bezel set with diamonds, emeralds, rubies, sapphires, amethysts or rainbow-coloured gems, others are fully paved with diamonds or coloured stones to offer unique iridescent effects and contrasts.