23 July 2021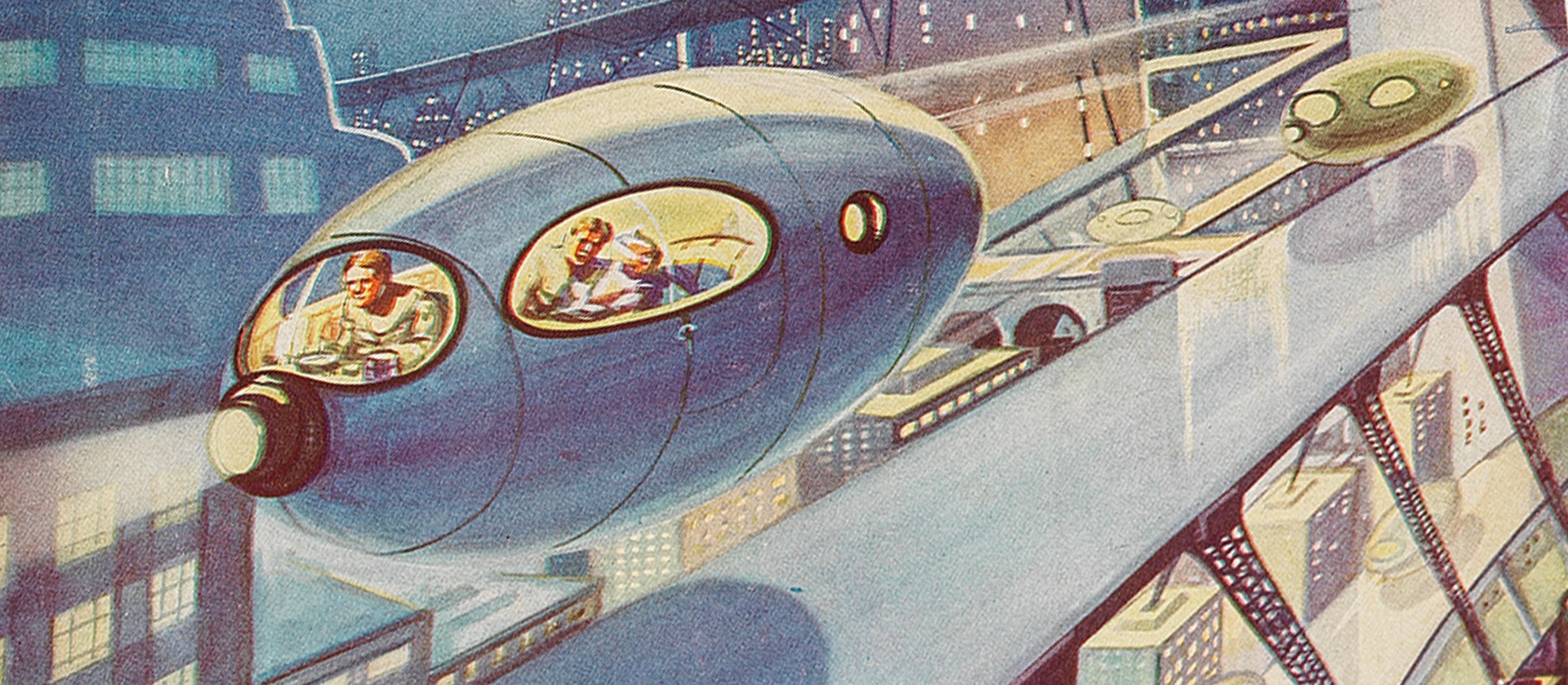 Time is one of the greatest mysteries of the universe. However, horological craftmanship strives to transform the elusive into tangible, elegant and spectacular reality. Behind workshop doors, the finest creative minds constantly elaborate new techniques, combining precision with aesthetic refinement to perfect timepiece mechanisms. This search for excellence transcends the possible, clearly resonating with the universe of science fiction. So when Audemars Piguet teamed up with la Maison d'Ailleurs – the Swiss museum devoted to popular culture – the countdown to fun began.
While the ambiguous spacetime concept remains the preserve of physicists, the influence of space on our time is more familiar to many. Jules Verne's 19th - century characters and more recently the 1930s comic book superheroes took readers to the edge of reality in some early examples of what we now call science fiction. 
This film and literary genre stages a delicate balancing act – part rooted in present reality and part stepping forward into an imaginary future. The dictionary defines science fiction as a form of fiction that deals principally with the impact of actual or imagined science upon society or individuals, a storytelling art not to be confused with fantasy literature, which takes a realistic story and adds a supernatural slant. However, if it had not been for English author William Wilson – who first coined the term science fiction in his 1851 essay A Little Earnest Book Upon a Great Old Subject – we might have still been using the expression "scientific romance" today.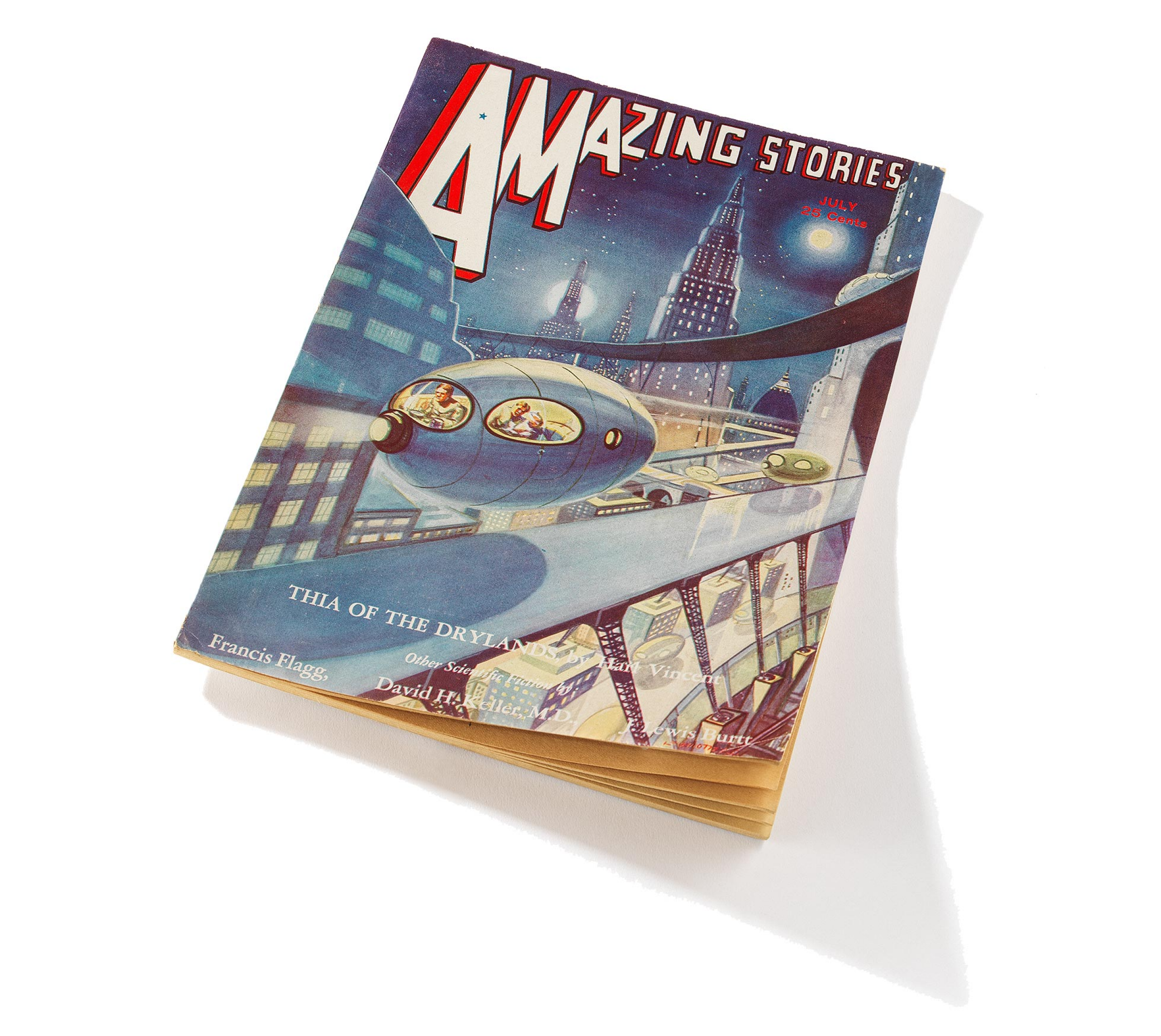 Launched in April 1926 by Hugo Gernsback, Amazing Stories is the first American magazine devoted to science fiction stories. It was a pioneer in the genre and the predecessor of comic books. The series drove the success of pulp fiction – inexpensive fiction magazines extremely popular during the first half of the 20th century. Maison d'Ailleurs collection
Regardless of the terminology we use, Jules Verne's 1865 work From The Earth to the Moon and H.G. Wells' The Time Machine of 1895 certainly built a bridge between science and fiction. Wells' novel pits two species against each other in a battle between good and evil – the Eloi, the heroes, against the Morlocks, the anti-heroes. Today's heroes come to us from the world of Marvel comics – Iron Man, Captain America, Hulk, Spiderman, Deadpool, Wolverine, Daredevil and Black Panther – and are much more multi-dimensional. A mix of good and evil, each of these characters begins life in human form and develops a superpower after a scientific experiment or an accident. After Superman's first appearance in 1938, these mutant heroes gradually made their way into pop culture in the 1960s. They fuelled fans' fantasies of flying, defying gravity, achieving superhuman strength, taking on hulkish or infinitesimal size, healing spontaneously or boasting razor-sharp senses. These characters' superpowers are sometimes influenced by outside forces that often take the shape of imaginary minerals.

For instance, H.G. Wells' Cavorite possesses antigravity properties, Kryptonite deprives Superman of his powers, while Vibranium absorbs kinetic energy to create an impenetrable shield. 
What if infinite talent and unfathomable materials were not exclusive to science fiction but could be found at the heart of horological craftsmanship? Marvel's magician Super Hero and distinguished time-bending Avenger Doctor Strange would likely agree. Audemars Piguet has also resolutely blended science fiction with the art of time as it partners with the museum la Maison d'Ailleurs for a travelling exhibition entitled "Power Stone."
Inspired by science fiction and the development of television during the 30-year post-war boom from 1945 to 1975, this extra-thin Screen Shape Model 5451 (Calibre 2003) in white gold from 1974 mirrors the shape of television screens and modern surveillance screens that would feature in any space centre or flying device. "L'Atomic Interplanétaire" metal gun (1977) with its cardboard box (Le Havre, Debrez Frères-Comines). Maison d'Ailleurs collection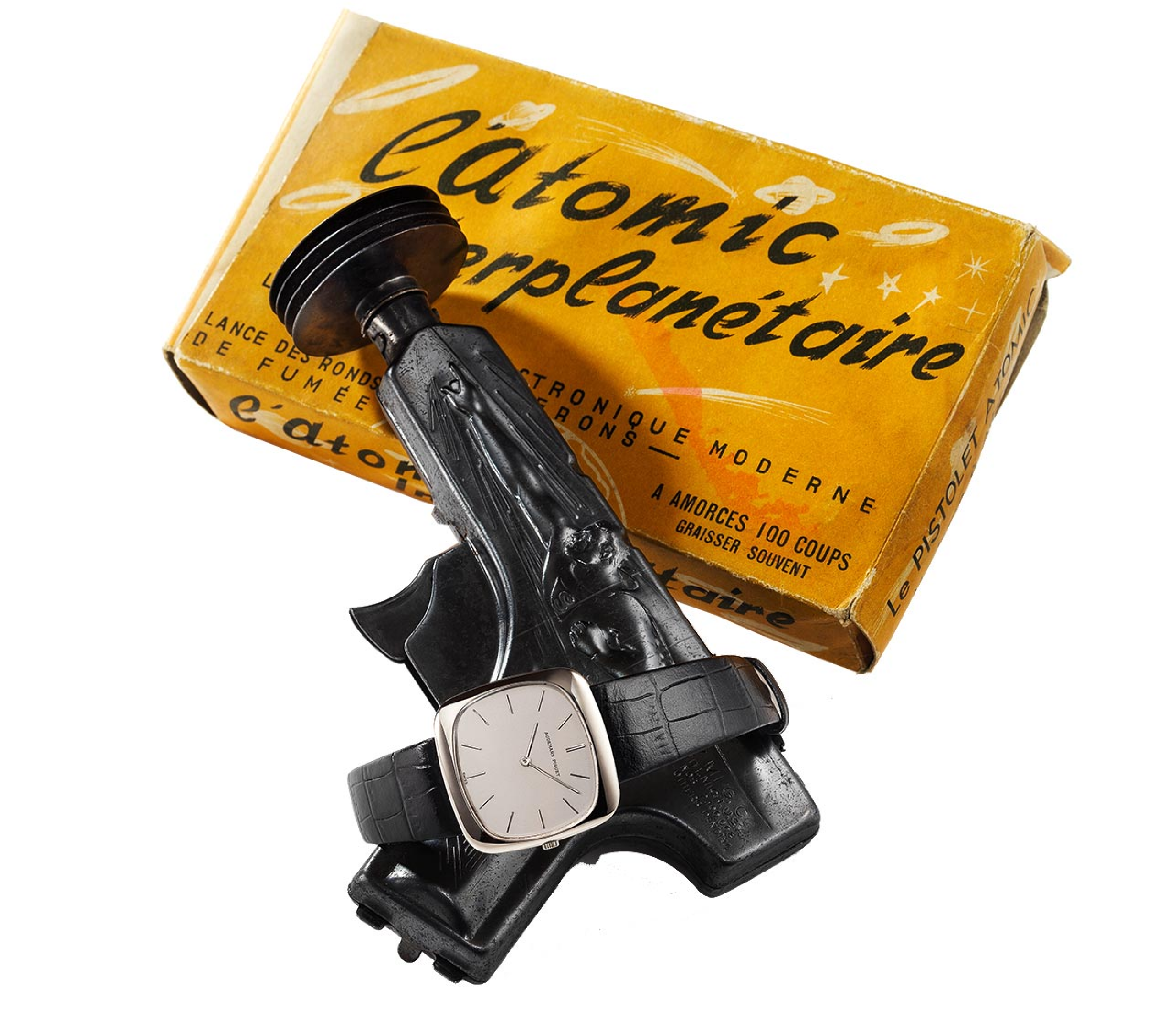 This museum devoted to science fiction, utopia and extraordinary journeys is unique in Europe and is located in Yverdon-les-Bains, just an hour by car from the Le Brassus Manufacture– or we could say 50 km as the UFO flies. "When Audemars Piguet approached us with this initiative, the concept appealed to us straight away," states Marc Atallah, Director and Curator of la Maison d'Ailleurs. Drawing on the museum's some 130,000 pieces of all kinds, he hand-picked around twenty symbolic items that resonate with the timepieces in Audemars Piguet's heritage collection for this project – comics, posters, lobby cards, figurines, models of flying saucers, Batmobile, laser guns, you name it. The resulting exhibition creatively connects half a dozen timepieces with the avant-garde context of their time in a truly innovative way. 

Perhaps it even realigns the planets to set Le Brassus among the stars, alongside Venus, Uranus and Sirius. "Science fiction provides the inspiration for our modern society – from architecture to the transportation industry and toy production – and from 1925 through to today, Audemars Piguet's vision has drawn on this universe to bring exceptional timepieces to life," says Dave Grandjean, Deputy Curator for this "Power Stone" travelling exhibition, organised from spring 2021 in some of Audemars Piguet's boutiques and AP Houses.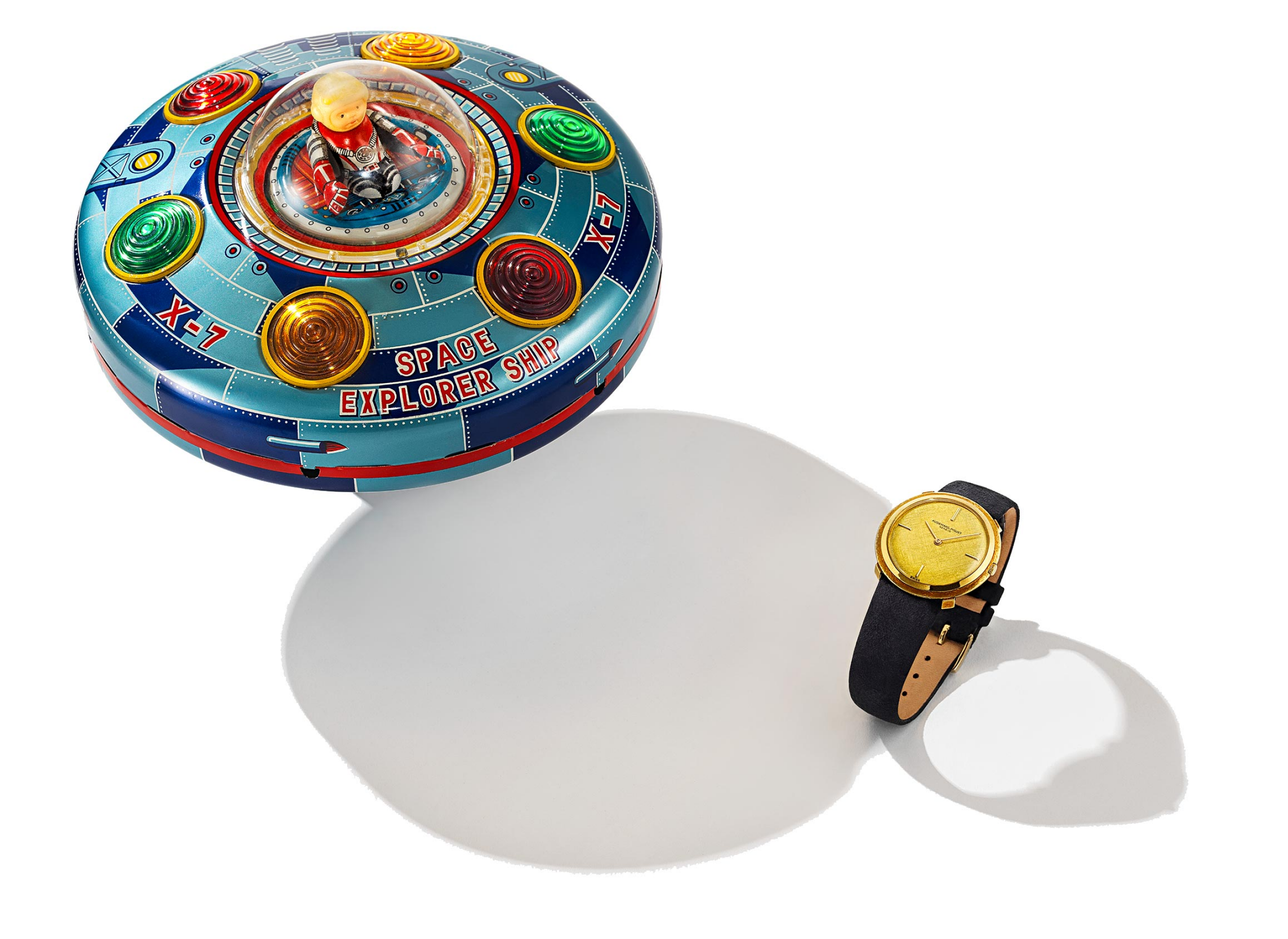 Space exploration gripped children's imagination propelled by science fiction stories in the 1960s, influencing toy production such as this "Space Explorer Ship X7" flying saucer made in white metal, produced in Japan by Masudaya. Offering a counterpoint, this Audemars Piguet timepiece from 1963 with a Flying Saucer design has a slightly curved crystal, recalling the cockpit of a spaceship. The bracelet is integrated directly below the bezel to accentuate this streamlined design. Maison d'Ailleurs collection
In a nod to this bond between science fiction and watchmaking savoir-faire, Vibranium's founding myths feature heavily. This emblematic metal used by both Black Panther and Captain America is reminiscent of the Swiss Jura mountains' hallmark ironstone, which accelerated the development of metal work and watchmaking mastery in the Vallée de Joux. Sébastian Vivas, Audemars Piguet's Heritage & Museum director, wholeheartedly believes that late-19th-century artistic and technological revolutions inspired faith in modernity. This progress in turn cast a new aesthetic for the arts and the manufacturing world. Products and styles of the time – from futurism to the Streamline and Art Deco movements – reflected this newfound modernity. Some were even decisively ahead of their time. An Audemars Piguet pocket watch designed in 1931 offers the perfect illustration, its pure lines recalling the aerodynamism associated with the Streamline movement. This pioneering style with broad metal surfaces and digital display – devoid of hands in a style known as a "jumping-hour" watch – prefigured the design for LCD watches four decades later in the 1970s. This era also culminates in a crucial influential event for science fiction mania – mankind venturing into space. Space exploration in the 1950s heralded a new golden age for sciencefiction comics and pulp magazines – inexpensive fiction magazines made using cheap wood pulp paper. These publications took readers beyond the confines of their world, embarking on spaceships to conquer the cosmos and journey to remote planets inhabited by extra-terrestrial creatures. 
These narratives gripped the public imagination and integrated popular culture, where their influence spilled over into other areas. As Yuri Gagarin took the first journey into outer space in 1961, and Neil Armstrong and Buzz Aldrin walked on the moon in 1969, comic book heroes also set out to explore infinity – and beyond – to meet the characteristic little green men and track UFOs. Back on earth, designers drew on science fiction fads and dreamt up multiple on-trend designs. Some of these innovations feature today in the exhibitions at la Maison d'Ailleurs, as well as in Audemars Piguet's heritage collection. Model 5200 reminiscent of a flying saucer that dates back to 1963 is a prime example. This fascination with space exploration continued to inspire designers in the 1970s as televisions became everyday objects in households in the west. At the same time, Model 5451 made its first appearance in the workshops in Le Brassus in 1974. Its case recalls the distinctive television and control screens that featured in space centres or futuristic flying machines of the time. Other timepieces also fused future and present to resonate with the big-screen superheroes, like the Royal Oak Offshore Survivor in 2008.
The Bohn Aluminum and Brass Corporation – an American firm founded in 1924 – was renowned for its adverts promoting its expertise in futuristic products (a paper advert from 1943 features opposite). The Streamline pocket-watch from 1931 crafted from white gold (minute repeater, calendar and jumping hour, Calibre 18SMV#2) also boasts a modern aesthetic. Its pure aerodynamic lines are inspired by the Streamline movement, which developed at the end of the Art Deco period. Maison d'Ailleurs collection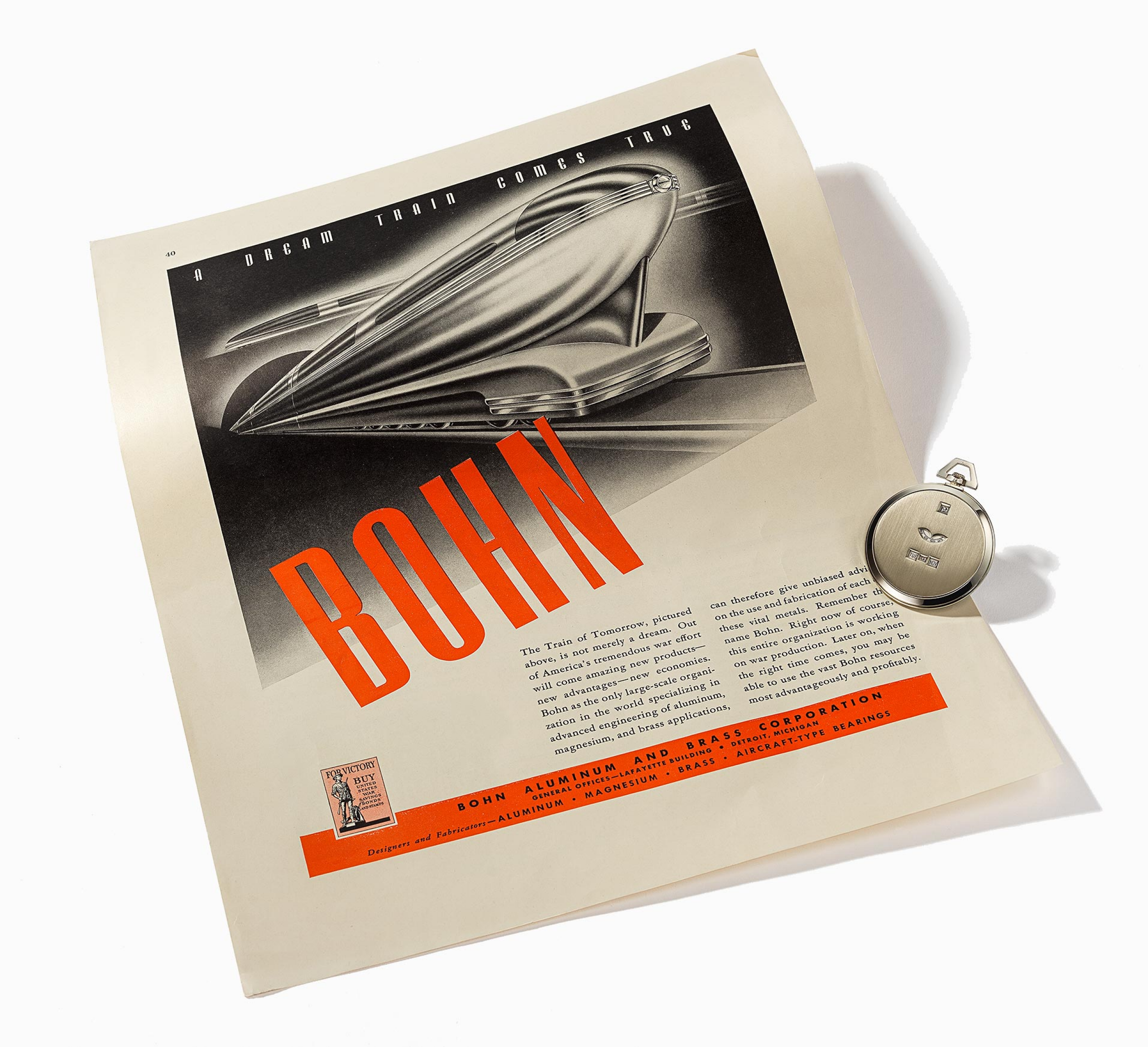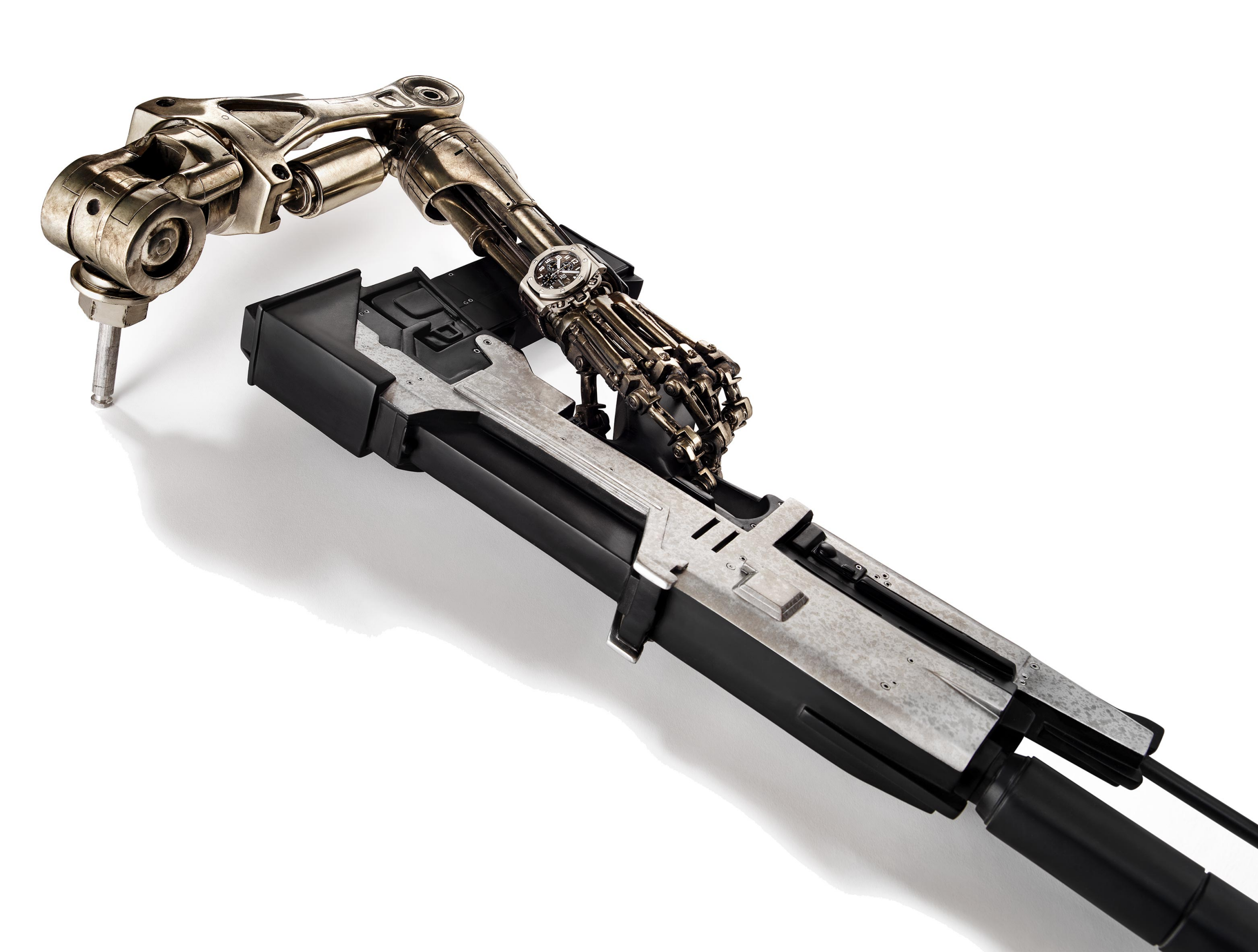 In Terminator 3, Rise of the Machines in 2003, Arnold Schwarzenegger wore the Royal Oak Offshore T3 Chronograph in titanium, a piece developed in collaboration with the actor that boasted innovative and extreme dimensions (48 mm diameter) for the time. Here it features on the wrist of a life-size statue of T-800 Endoskeleton Version 2.0 (Sideshow Collectibles) from the movie Terminator 2 Judgment Day, which came out in 1991.
If Batman had a watch, it would definitely be this black, angular, robust but light timepiece with multiple protections and a crown shaped like the barrel of a gun. Watchmaking no longer needs to rely on superhuman characters from the fictional world. After space exploration propelled advanced innovation, this time-honoured craft can now draw on state-of-the-art materials originating in spacecraft design workshops. The first Royal Oak Concept was fashioned from Alacrite in 2002, a cobalt alloy used in the aerospace industry. Engineers and designers have not been alone in surfing the science fiction trend since the 1950s. Watchmakers also harbour age-old powers, mastering the infinite mystery of time as they divide seconds into four or five with jumping second or "foudroyante" chronographs.
Their tourbillon can defy the laws of gravity to achieve unparalleled precision bordering on the impossible. And their GMT watches simultaneously display the time in all four corners of the globe. Does the ironstone found in the heart of the Swiss mountains hold the key to the mysteries of the Royal Oak Concept's futuristic power and the secrets harboured in the "Power Stone" exhibition? The truth is out there.
- By Hervé Gallet