Our Partnership
with Art Basel
Since 2013, as global Associate Partner of Art Basel, Audemars Piguet Contemporary has presented commissioned artworks annually in Hong Kong, Basel, and Miami Beach.
From 2013 to 2019, Audemars Piguet also collaborated with designers who gave expression to the Manufacture's cultural and geographic origins within the Art Basel Collectors Lounge.
Fernando Mastrangelo
The Vallée, 2019
The 2019 lounge designed by Fernando Mastrangelo invited viewers to experience the Vallée de Joux through seamless gradients of tones and textures.
Mastrangelo's immersive design was entirely made of granular materials including sand, rock salt, silica, limestone and crushed boulders from the Vallée de Joux. Deconstructing and reconstructing nature and time, Mastrangelo's design evoked Audemars Piguet's rooted history in the Vallée de Joux, as well as the intricate process of Haute Horlogerie, from its natural resources to the final assembly of the watch's movement and case.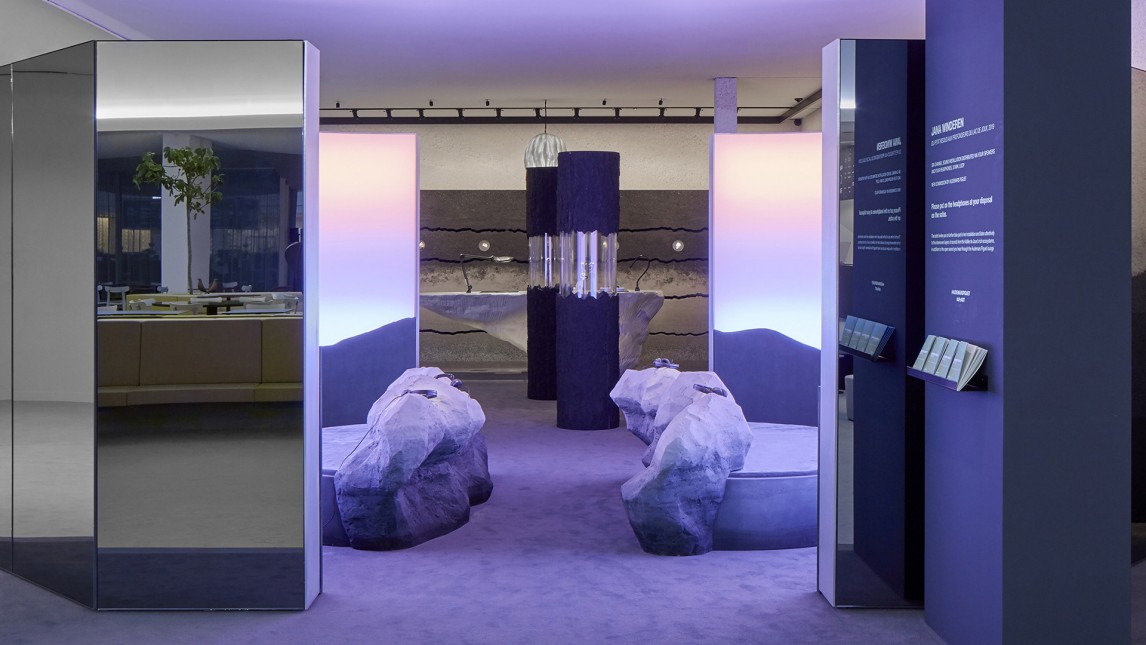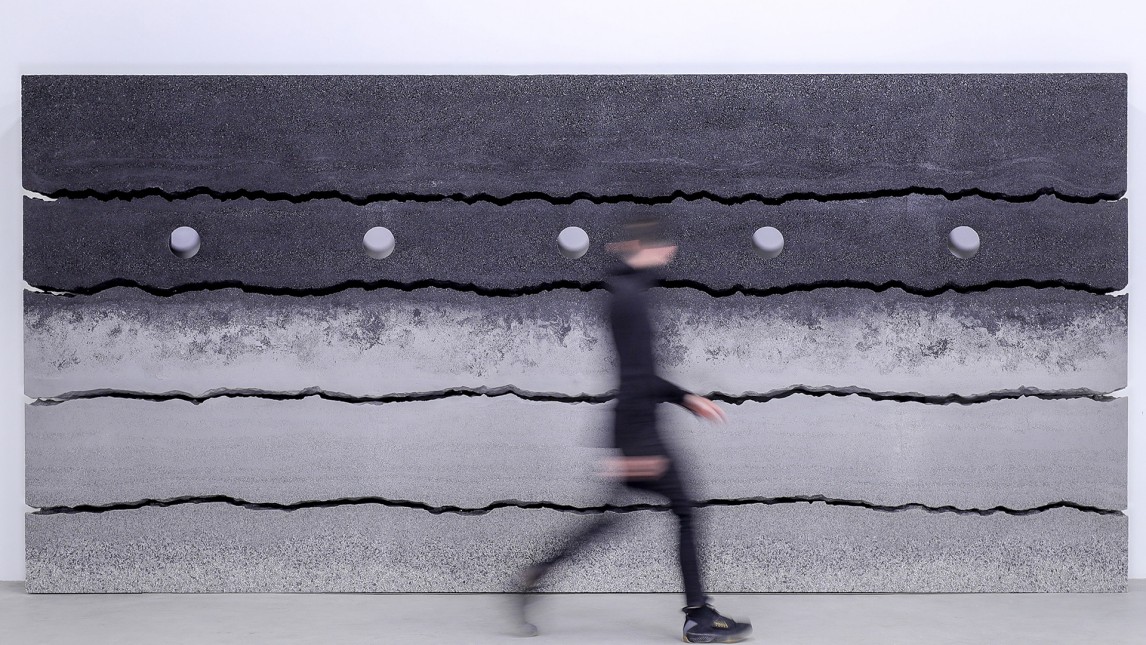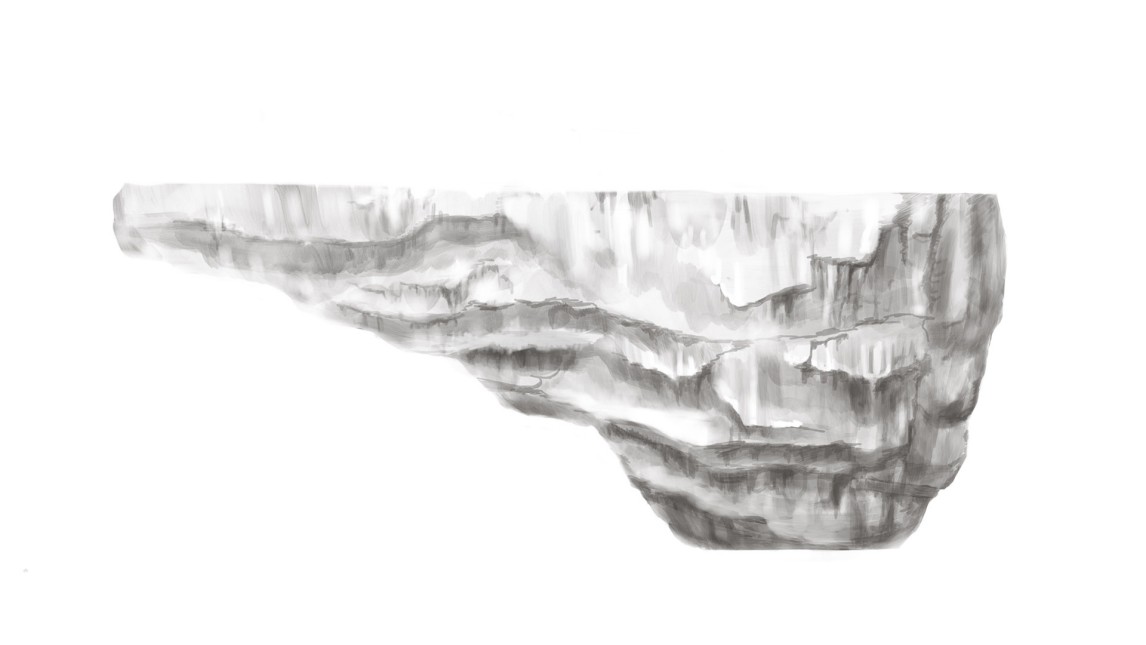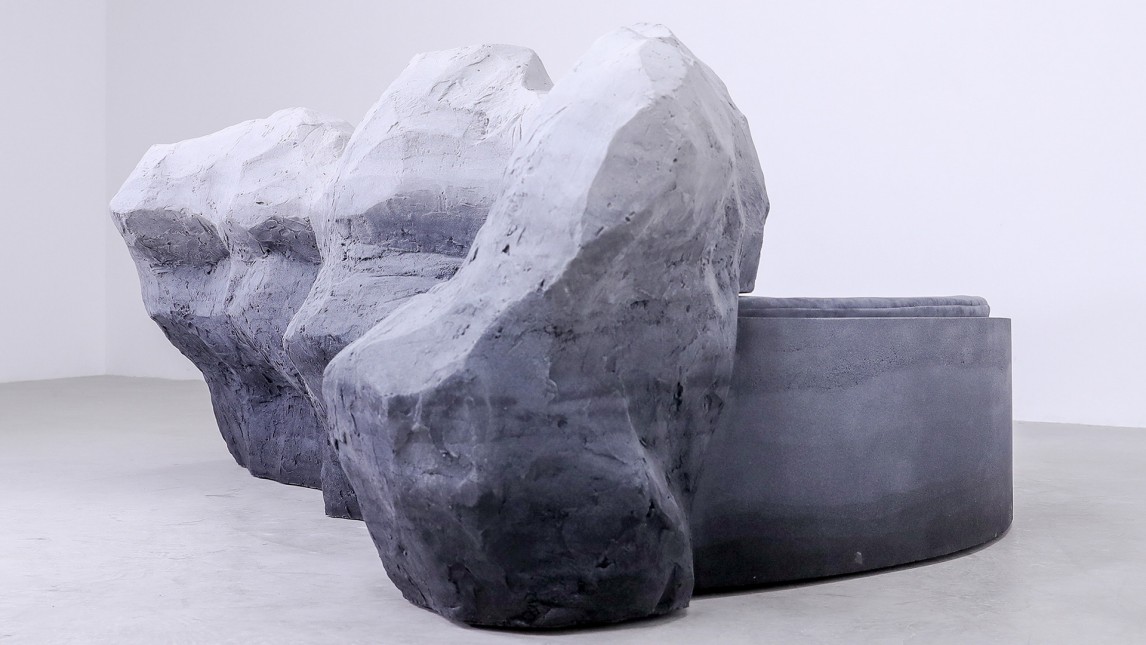 Sebastian Errazuriz
Ice Cycle (2016), Second Nature (2017), Foundations (2018)
Sebastian Errazuriz developed a three-part design for Audemars Piguet, where each year focused on a different natural resource essential to the art of watchmaking.
Taking its inspiration from the ice formations and the snowy winters in the Vallée de Joux, Errazuriz's first lounge for Audemars Piguet expressed the purity of nature and the passing of time, with 3D depictions of water and ice as its main thematic elements.
In 2017, Errazuriz created a large-scale wooden sculpture of a tree crafted with traditional and cutting-edge technologies, evoking forests native to the Vallée. The tree within the lounge evolved with the seasons, presenting a different mood and character at each Art Basel show throughout the year.
2018 was based on iron ore. The installation suspended hundreds of 3D-printed, scanned, and hand-moulded rocks moving in synchrony.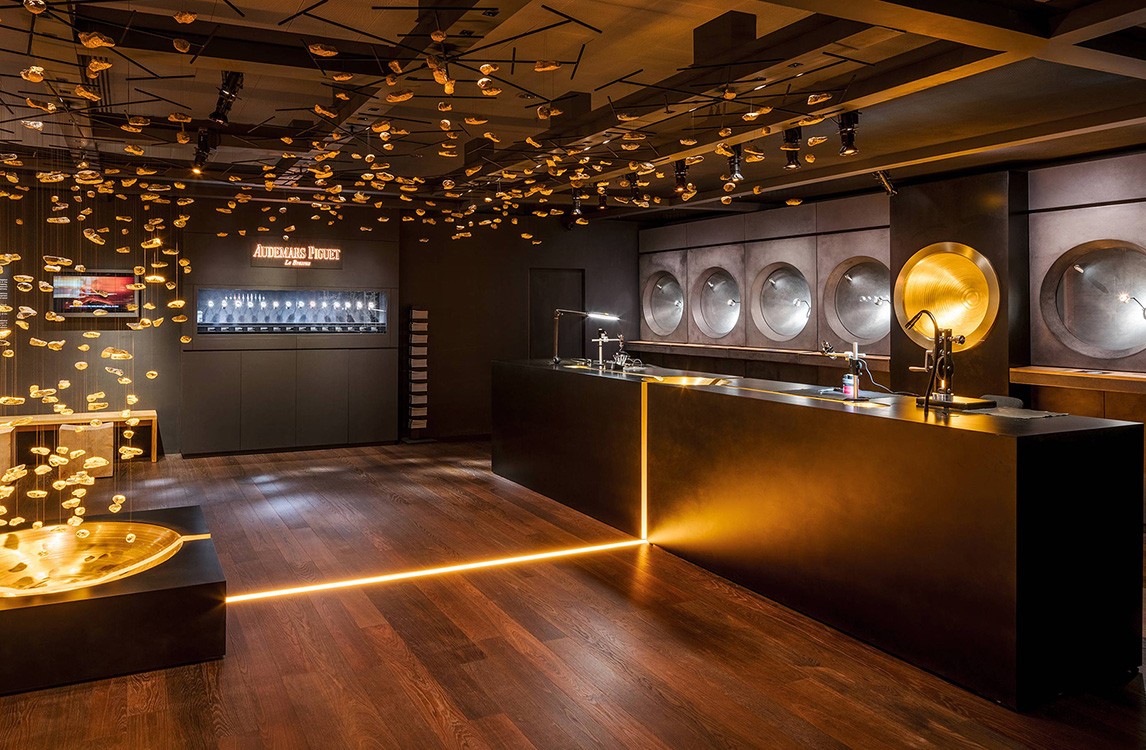 Mathieu Lehanneur
Mineral Lab, 2014 – 2015
Mathieu Lehanneur's lounge concept Mineral Lab explored the themes of technology versus nature. Lehanneur welcomed inspiration from precise watchmaking savoir-faire to create his own, revised version of nature using high-tech glass cubes and actual Swiss rocks of the Vallée de Joux moulded following an archaeological process and "stoneprint" technology. His 2015 Mineral Lab shifted seasons from winter to spring and included an eco-living wall.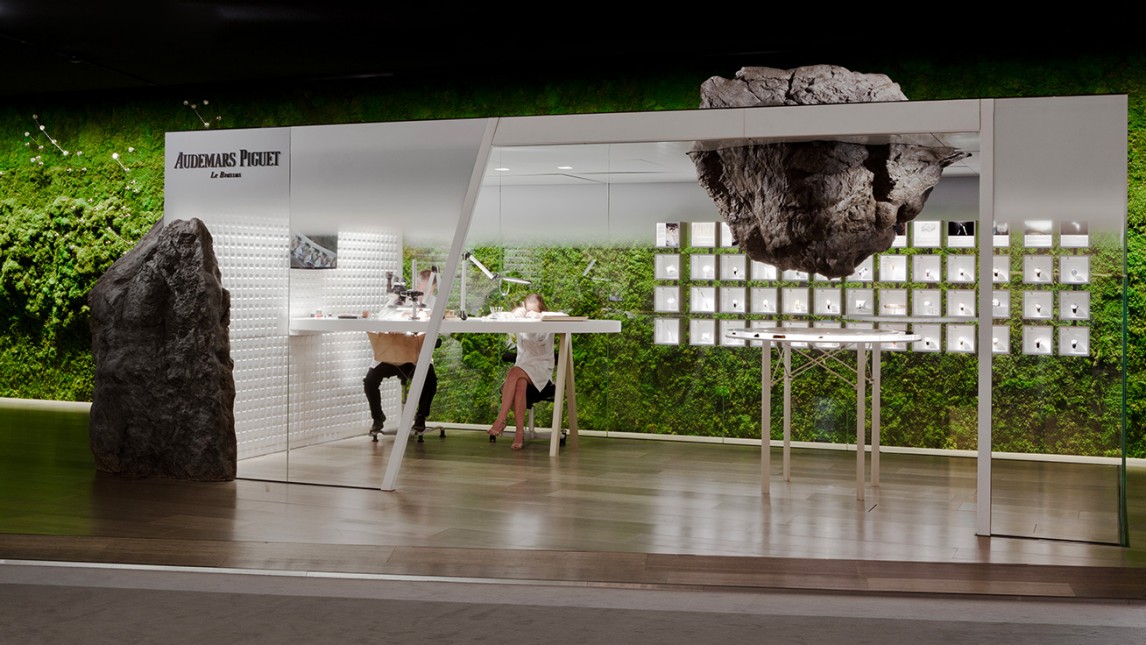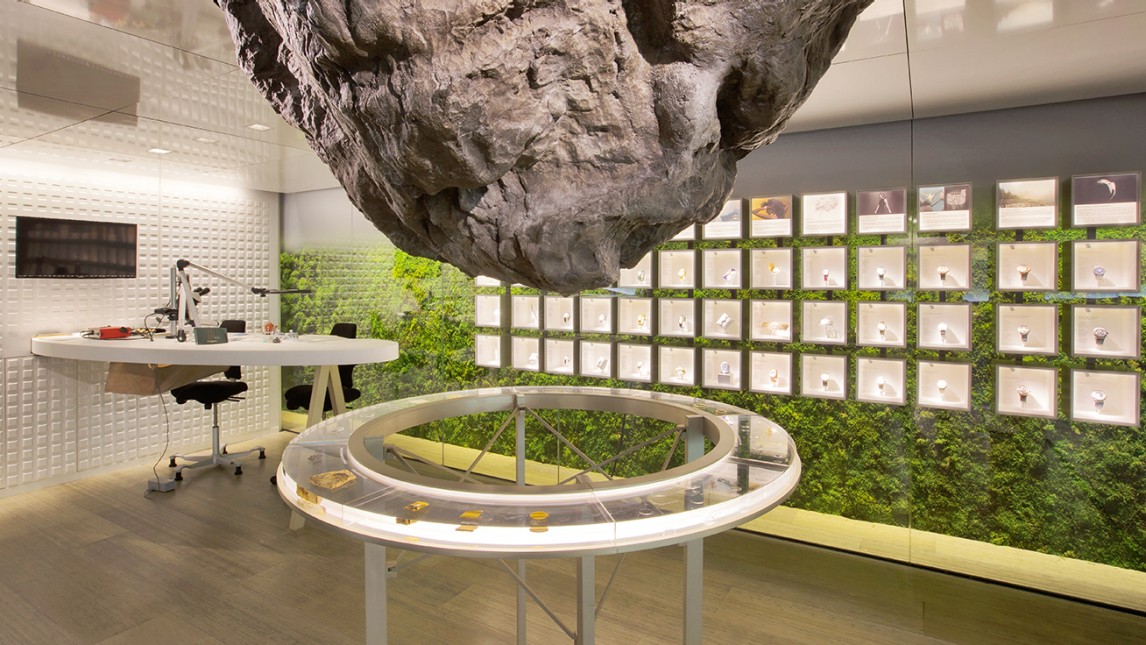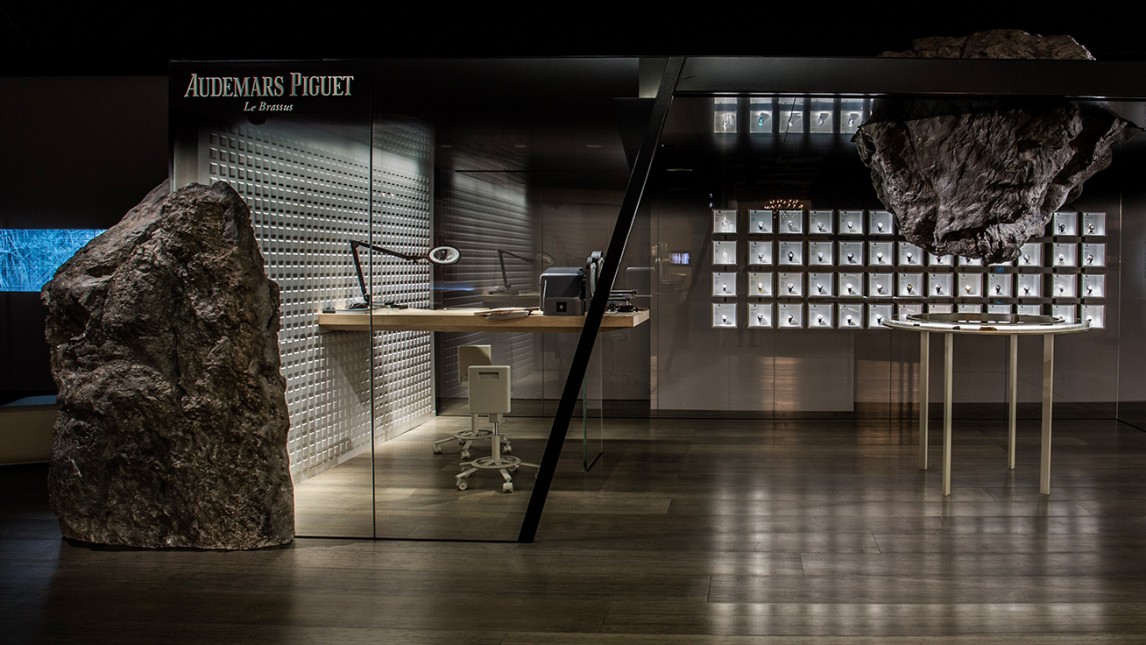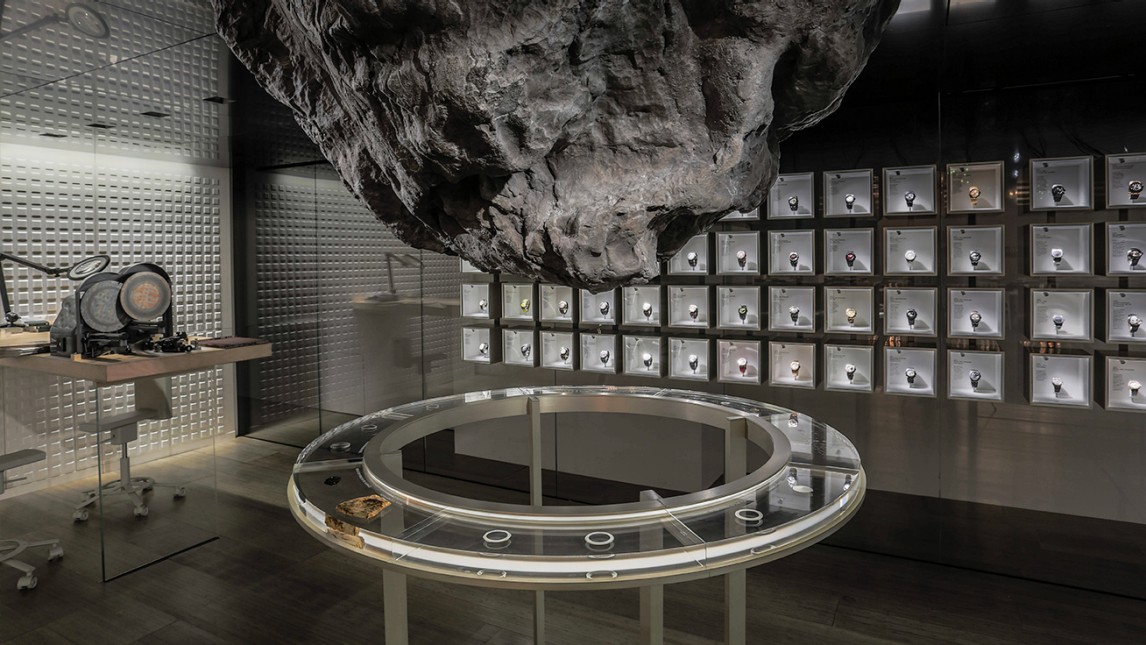 Sébastian Leon Agneessens
From Avant-garde to Icon, 2013
For Audemars Piguet's inaugural Art Basel lounge collaboration, Sébastien Leon Agneessens created an environment inspired by the Swiss Jura's forest and rocky terrain to introduce visitors to Audemars Piguet's geographical universe.